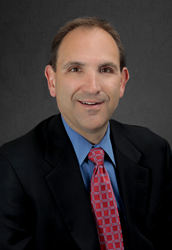 We want to reshape the RBMA in response to technology, business trends and health care reform changes to ensure we're here for the long haul for our members.
Fairfax, VA (PRWEB) May 29, 2017
Thomas Dickerson, Ed. D, FACHE, chief executive officer for Clinical Radiologists S.C., in Springfield, Illinois, is the new president of the Board of Directors for the Radiology Business Management Association, the largest and oldest U.S. association for radiology practice administrators. He succeeds outgoing Board President Jim Hamilton, MHA, CMM, FRBMA, an administrator and business manager for Medical Imaging Physicians, Inc., in Dayton, Ohio.
Dr. Dickerson has been a member of the RBMA for close to 20 years and held positions on the RBMA Common Body of Knowledge Task Force and the RBMA Finance, Payor Relations and Executive committees. In addition, he has served on the RBMA Board of Directors as Treasurer and President-Elect. He was also a member of the executive search committee that helped select Bob Still as the RBMA's new executive director in 2017.
However, Dr. Dickerson has not just been a leader within the RBMA. He has also been a leader in the Springfield and Quincy communities. Between 2003 and 2013, he served Quincy Public Schools as an elected member of its Board. For six of those years, he was the school board president. He has also helped lead several local non-profit organizations.
Professionally, Dr. Dickerson became CEO of Clinical Radiologists S.C. in 1998 and under his leadership, it has grown into a $100 million corporation with 80 physicians, making it one of the largest radiology practices in Illinois. He is also president of Professional Business Services of Central Illinois Inc., a medical billing company. Prior to his current positions, he was director of radiology services for Blessing Health System in Quincy, Illinois, and administrative director of Magnetic Imaging Center of Quincy, Inc.
Dr. Dickerson earned his undergraduate degree in Advanced Technical Studies/Management at Southern Illinois University, Carbondale. He then went on to receive a master's degree in Human Resources at Ottawa University in Ottawa, Kansas. His doctorate in Education was awarded in 2014 from Creighton University.
The new leadership role for Dr. Dickerson comes with new RBMA goals. "We're seeing a big shift in health care and particularly in radiology," he said. "We want to reshape the RBMA in response to technology, business trends and health care reform changes to ensure we're here for the long haul for our members."
Interviews with Dr. Dickerson can be arranged through the RBMA. The full list of RBMA Board members is available at rbma.org/Board_of_Directors.
About RBMA
Founded in 1968, the Radiology Business Management Association is a national not-for-profit association providing members with applied business information and intelligence applicable in any radiology setting. RBMA represents more than 2,300 radiology practice managers and other radiology business professionals. Its aggregate influence extends to more than 24,000 radiologic technologists and 26,000 administrative staff and physicians. RBMA is the leading professional organization for radiology business management and is recognized for its radiology-specific educational programs, products and services, publications and data. The resources and solutions RBMA offers its members and the broader health care community are helping to shape the profession's future.