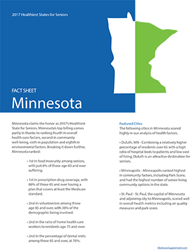 Minneapolis, MN (PRWEB) May 26, 2017
A new analysis of community health data reveals that four out of the top five U.S. states with the healthiest seniors are located in the Midwest. With the average cost of healthcare rising and the U.S. senior population expected to double by 2060, more and more people are concerned with both the quality and affordability of where they live. An annual 2017 report looked at a variety of community health metrics to determine which states have the healthiest over-65 residents and which states are trailing behind the national average. The results of the study show the following were the 2017 healthiest states for seniors:
1. Minnesota
2. Iowa
3. North Dakota
4. Florida
5. Nebraska
The study was commissioned by the consumer insurance agency website MedicareSupplement.com and analyzed more than just health care. The research aggregated 20 measures including cost of living index, median incomes, hospital & nursing home quality, and community factors such as the availability of public parks and air quality. The data were sourced from national public health data as well as private reporting organizations such as the United Health Foundation. Each state was ranked based on a weighted average of variables.
"The combination of lower average costs of living and better healthcare outcomes is why the Midwestern states beat out more common retirement destinations," said senior data scientist Win Pratt.
Minnesota ranked among the top eight states in four of the five major categories, missing out on only cost of living. Minnesota's Twin Cities area fared the best in the community factors category, with some of the best rated public parks in the nation.
Iowa displayed tremendous versatility by ranking no worse than 13th in any of the five categories.
North Dakota scored exceptionally well in environment, community well-being and cost of living.
Florida, already considered by many to be the top retirement destination, was boosted even further by good scores in both healthcare and population.
Nebraska rounded out the top five thanks to its environment, cost of living and community well-being.
For a full summary of findings and methodology, visit the full report here.