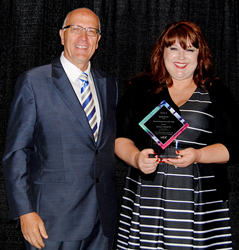 Recognition from WHCA is an achievement for our entire organization and we are thrilled.
SEATTLE (PRWEB) May 26, 2017
The Washington State Health Care Association (WHCA) recognized two Era Living employees for their exemplary contributions to the senior care community, at the WHCA Annual Convention, on Wednesday, May 24th at the Tacoma Convention Center. During the recognition luncheon, Ida Culver House Broadview's Community Health Director, Holly Wilson, RN received the WHCA 2017 Assisted Living Nurse of the Year Award. University House Wallingford's Director of Housekeeping Services, Almaz Berhe was honored with the 2017 WHCA Red Carpet Service Award.
Era Living nominated both WHCA Quality Award winners for their professional histories of relationship-driven service and care.
"The recognition from WHCA is an achievement for our entire organization and we are thrilled," said Era Living Vice President of Operations Jacob Almo. "Holly and Almaz exemplify the Era Living mission by constantly seeking out new ways to enhance the lives of older adults."
Era Living employs more than 800 senior care professionals and has been named one of the best places to work in Western Washington by KING 5's Evening Magazine. Qualified employees have access to ongoing professional education and advancement is encouraged from within.
"One of the things that impressed our judging panel was that both Holly and Almaz worked their way up, into their current leadership positions," said WHCA CEO, Robin Dale.
Washington is home to more than 500 assisted living facilities, 335 of which are members of WHCA. Combined with the skilled nursing communities that are also members, WHCA represents approximately 25,000 long-term care employees.
"At WHCA we understand that the senior care industry is filled with amazing opportunities and people," said WHCA CEO, Robin Dale. "Through the WHCA Quality Awards, we have a way to tell the stories of exceptional care and access to deeply fulfilling work to encourage interest in our growing profession."
About Washington Health Care Association
WHCA's mission is to promote quality long-term and post-acute health care and services, while serving as an advocate for providers, staff, and the patients and residents they care for. Association members provide health and personal care, social support and housing to 25,000 frail, elderly, or disabled Washingtonians each day.
About Era Living
Since 1987, Era Living has been dedicated to fostering a healthy and engaging environment of lifelong learning, whole-body wellness, cultural enrichment and social fulfillment for older adults at all eight of its Seattle area communities.
The Era Living communities are Aljoya Mercer Island, Aljoya Thornton Place, Ida Culver House Broadview, Ida Culver House Ravenna, The Gardens at Town Square, The Lakeshore, University House Issaquah, and University House Wallingford. More information can be found at http://www.eraliving.com.