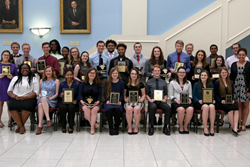 Lynchburg, Va. (PRWEB) May 25, 2017
Liberty University's Debate Team finished atop the final rankings of all three national debate tournaments for the eighth time, sweeping the American Debate Association (ADA), the Cross Examination Debate Association (CEDA), and the National Debate Tournament (NDT).
After topping George Mason University for the overall titles in both the NDT and the CEDA earlier this spring, Liberty was recently announced the winner of the ADA's grand sweepstakes, again ahead of George Mason.
Liberty remains the only school in the country to finish first in all three rankings in a single year. The team has placed first in the CEDA for the last eight years, first in the NDT for seven out of the last eight years, and first in the ADA for 13 out of the last 14 years.
This year's debate topic was "Resolved: The United States Federal Government should establish a domestic climate policy, including at least substantially increasing restrictions on private sector emissions of greenhouse gases in the United States." Examples of arguments students researched and presented are cap and trade policies, carbon taxes, and renewable fuel standards.
2017 ADA final overall rankings
1. Liberty
2. George Mason
3. Minnesota
4. Emory
5. Harvard
6. James Madison
7. (Tie) Wake Forest and Georgia
9. Wayne State
10. Northwestern
2017 NDT final overall rankings
1. Liberty
2. George Mason
3. Cornell
4. California (Berkeley)
5. Wake Forest
6. Emory
7. Harvard
8. Kansas
9. Binghampton
10. Rutgers-Newark
2017 CEDA final rankings
1. Liberty
2. George Mason
3. Cornell
4. Wake Forest
5. Kansas
6. Binghamton
7. Rutgers
8. Georgia
9. Harvard
10. NYU
About Liberty University
Liberty University, founded in 1971, is the largest private, nonprofit university in the nation, the largest university in Virginia, and the largest Christian university in the world. Located near the Blue Ridge Mountains on more than 7,000 acres in Lynchburg, Va., Liberty offers more than 550 unique programs of study from the associate to the doctoral level. More than 250 programs are offered online. Liberty's mission is to train Champions for Christ with the values, knowledge, and skills essential for impacting tomorrow's world.