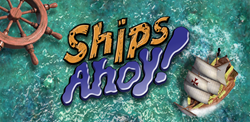 Vancouver, BC (PRWEB) May 27, 2017
Misfit Entertainment has just released its first mobile game on Android. "Ships Ahoy!" is a free arcade sailing adventure featuring a simple game-play mechanic that is fun, easy to learn, yet hard to master.
In "Ships Ahoy!" the goal is to survive as long as possible as you navigate winding channels, weave around turtles, and avoid perilous whirlpools.
"There were three important design principles we followed during the development of this game," says Russell Rice, one of Misfit's founders.
The first principle is having excellent game-play. This resulted in a game where a player's skill determines the outcome, and no one feels like they've been cheated when things go wrong.
"Ships Ahoy!" features a wheel that can be quickly spun to direct your ship, simulating a physical steering wheel similar to ones on classic 80s arcade racers.
The second principle is simply quality. "If you are going to implement a feature, do it right, or not at all," says Russell. "Ships Ahoy!" has the features mobile gamers expect from new titles, from cloud save games to offline-play, and of course, leaderboards.
The third principle is uninterrupted game-play. Sponsored ads are completely opt-in, and replaying a game is a single button-press – no menus to navigate, and no load time to contend with.
Notable features of "Ships Ahoy!" include:

Unique steering controls.
Free-to-play (with optional in-app purchases).
No forced ads.
An ever expanding collection of unlockable/purchasable ships.
Multiple themed environments.
Fantastic music score.
Cloud save game.
Online leaderboards & achievements.
Offline play.
Landscape and portrait modes.
Multiple graphics quality options.
Fun mini-game challenge.
"Ships Ahoy!" is currently localized into 9 languages:
English, French, Spanish, German, Portuguese, Japanese, Simplified Chinese, Korean, and Traditional Chinese.
Get "Ships Ahoy!" on Google Play now:
https://play.google.com/store/apps/details?id=com.misfit.ship
About Misfit:
Newly-formed Misfit Entertainment was founded by two experienced game-industry veterans for the purpose of developing and publishing fun, high-quality experiences on mobile and other casual games platforms.
http://misfitentertainment.com/