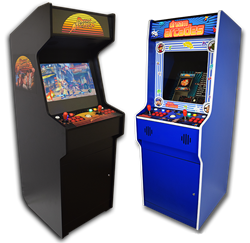 Whether you're into the classics or the newer fighting games are more your style, we've got something for everyone." says Michael Ware, Owner of Dream Arcades. "But be sure to act now, as these limited edition arcades are available this summer only.
Sacramento, CA (PRWEB) May 30, 2017
Dream Arcades (http://www.DreamArcades.com), the leader in high-quality, low-cost home video arcades today unveiled two new, limited release arcades: The Dreamcade Fighter Edition, and The Dreamcade Retro Edition. The Dreamcade Fighter comes with a 24" widescreen TV designed for the most popular fighting games and includes acclaimed fighting games such as Street Fighter 4, as well as Mortal Kombat 1, 2, & 3. The Dreamcade Retro comes pre-loaded with over 200 old school games, and features classic NES styling.
Both of these limited edition arcades can be pre-ordered for just $1999 at: http://www.dreamarcades.com.
Every Dream Arcade Features:

A complete 6-button layout for two players.
Support for thousands of games with free software updates for life.
Real arcade overlay
A built-in trackball at no additional cost.
Tempered glass
Side pinball buttons
Dream Arcades is the only home arcade company that builds both custom software and hardware into their machines. Customers never have to worry about getting assistance with free phone, e-mail, and chat support, along with the ability to remotely connect to every Dream Arcade. Our exclusive Retro Reload software makes the process of adding games safe and easy.
For more information, please contact: media(at)dreamarcades(dot)com or call 916-761-6925. High resolution print images are available.
All Trademarks are property of their respective owners.
About Dream Arcades:
Dream Arcades is the world's largest manufacturer and distributor of arcade machines for the home or office. Since 2003, Dream Arcades machines have been enjoyed by gamers all over the world. Dream Arcades has setup strategic alliances with millworks, factories and software companies to offer our customers the lowest cost arcades possible while still maintaining the quality and functionality required to produce an authentic arcade experience at home. Our video games meet high quality standards and each product goes through a rigorous series of tests before shipping to the customer. For more information or to order an arcade, please visit http://www.DreamArcades.com