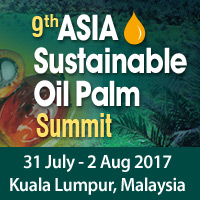 The summit revives vital discussions on the ongoing global debate on palm oil industry's sustainability aspects – right from traceability, smart agri techniques to value additions from palm oil wastes for a circular economy
Kuala Lumpur, Malaysia (PRWEB) June 06, 2017
The summit kick starts with a joint opening session on 'Driving Sustainability – Updates from Palm Oil Producers' by Anita Neville, Vice President – Corporate Communications and Sustainability Relations, Golden Agri ("GAR") and Ranveer Singh Chauhan, Managing Director & CEO, Palm & Natural Rubber, Olam. They reaffirm the importance of strengthening traceability through collaborative partnerships with smallholders and buyers as well as commitments to zero deforestation/ no Deforestation, No Peat, No Exploitation (NDPE) policies.
Felda joins the summit with a session on 'Best Replanting Model for Early Oil Palm Yielding' and as host of a Pre-Conference Site Visit to Felda Plant House Nursery and Seeds Production & Breeding Unit plus a tour of FELDA'S GAP (Good Agricultural Practices) on 31 July.
Expanding further on Sustainability theme are sessions on smart agriculture –

Performing Cloud Based Machine Learning Algorithms on Drone Imagery for Efficient Management & Plant Health Estimation - Poladrone Solutions
Latest Developments on Agriculture Drone for Oil Palm Plantations Application - Surmap
Application of IoT (Internet of Things ) in the Palm Oil Sector - Cambridge Consultants
Other highlights are 2 dedicated sessions on added value for palm oil waste – with Eureka Synergy sharing on 'Supreme Grade Organic Fertilizer from Palm Oil Industrial Waste' while INTROP Universiti Putra Malaysia and Eco Premium Packaging presenting on 'Conversion of Oil Palm biomass wastes in the form of empty fruit bunches (EFB) to premium packaging products'.
Organized by Centre for Management Technology (CMT), the program also includes discussions on:

Tightening Up RSPO's Accountability Mechanism & Moving Forward on Sustainability - Round Table on Sustainable Palm Oil (RSPO)
Taking Our Plantation Business to the Next Level - MKH Resources
Palm Oil Price Outlook and Prevailing Trends - RHB Research Institute
A Leading Buyer's Approach on Sustainable Sourcing of Palm Oil & Challenges Faced - Kao Corporation
Role of Molecular Precision Agriculture in Oil Palm Sustainability and its Economic Impact in Southeast Asia – Orion Genomics
Increasing Dominance of No Deforestation, No Peat, No Exploitation Policies in the Oil Palm Industry and the Way Forward - Aidenvironment
Recent Developments on 3 -McPD and Glycidyl Esters in palm oil and other vegetable oils – Unilever Research & Development Vlaardingen
To Peat or not to Peat – Param Agricultural Soil Surveys and Peatland Restoration Agency
Responsible Management of Peatland with Real Time Technology Water Level Monitoring Systems – National Research Council of Indonesia
Also participating at the summit as Coffee Break Sponsor, Trimble Navigation's APAC Director of Sales & Distribution – Mr. John Whitehead presents 'The Role of Geospatial Technology in Sustainable Palm Oil Production: Lessons Learned and Opportunities Ahead'.
For more information visit website or contact Ms. Huiyan at +65 6346 9113.