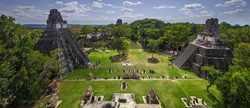 Our guests take comfort in knowing that wherever they are in Belize, a Chaa Creek associate is never far away
San Ignacio, Belize (PRWEB) May 30, 2017
As Chaa Creek Belize Expeditions prepares to celebrate its thirty-fifth birthday in June 2017, the owners, staff and colleagues look back over its role in Belize's dramatic rise from relative obscurity to becoming one of the world's most popular travel destinations, Chaa Creek's social media administrator Jared Bradley reports.
"Before Belize became a world-class tourist destination, with the modern infrastructure, transport, communications and conveniences we take for granted today, getting around the country was much more of a challenge," Mr Bradley said.
"While Mick and Lucy Fleming were building a reputation for taking visitors in at their little farm along the banks of the Macal River, they were also taking guests out to Belize's ancient Maya temples, archaeological sites and natural attractions like the Mountain Pine Ridge, Victoria Falls, Barton Creek Caves and other features.
"Now, thirty-five years after Chaa Creek Belize Expeditions began, we're having a birthday party to celebrate and remind each other how far Chaa Creek and Belize have come over the years," he added.
Lucy Fleming recalled that with a young child and another on the way, she and her husband Mick were finding it increasingly difficult to manage a farm while accommodating the demands of a steadily growing number of visitors. When Belize achieved independence from Great Britain in September of 1981, the young couple made the leap from farming into the hospitality industry with the opening of Chaa Creek Cottages.
In June 1982, they launched Chaa Creek Inland Expeditions to meet the rising demand for transportation and tours around Belize.
"Belize was still 'Mother Nature's Best Kept Secret', and the Cayo District was well and truly its Wild West. The Western Highway, which connected Belize City to the capital of Belmopan, San Ignacio Town and the Guatemalan border, was a rough road filled with potholes, stray cattle, wandering animals and all manner of obstructions, natural and manmade," Ms Fleming recalled.
"A bus line from the coast to Belmopan and the western border did exist, but service was sporadic at best, and getting to areas like the Mountain Pine Ridge could be a real challenge, with hitchhiking the most viable option," she said.
The Flemings and their weathered pickup truck soon found themselves in demand taking visitors to the ancient Maya city of Tikal in Guatemala, local Maya temples such as Xunantunich, Cahal Pech and El Pilar, and to the Caribbean coast.
As that demand grew and Chaa Creek Cottages evolved into The Lodge at Chaa Creek, Chaa Creek Belize Expeditions continued to develop a network of friends and colleagues across Belize
"Belizeans have always relied on cooperation to get by," Ms Fleming said, "That's how it was when farming and fishing were the main occupations, and it held true when tourism began to grow. By linking up with people on the cayes, along the Caribbean coast and across Belize, we were able to support each other and create a nationwide network built on trust and a commitment to deliver excellent service.
"Over time this network continued to develop and become more and more professional. With very little name recognition and no real marketing budget, we knew that positive word of mouth was essential, and worked with government to put in place training and professional development opportunities, and with hard work and long hours, were able to keep pace with Belize's dramatic rise as a travel destination."
Today, The Lodge at Chaa Creek employs 160 people and features a wide range of accommodations and amenities that include a highly regarded restaurant and lounge, infinity pool, Hilltop Spa and more. Horseback riding, canoeing, jungle safaris, guided nature walks and other activities are offered within a 400-acre private nature reserved crisscrossed with a well-maintained trail system.
Over the years Chaa Creek Belize Expeditions also evolved, expanding to offer tours and expeditions throughout Belize, from the Caribbean Coast and cayes to Lake Petén and the ancient Maya metropolis of Tikal in Guatemala.
A fleet of eight air-conditioned vehicles driven by licenced naturalist guides who all possess an in-depth knowledge of Belize's flora, fauna, cultures and history carry individuals, families and groups to all corners of the country. Ms Fleming said the drivers' experience ensures they can point out interesting features, answer questions, and "make every journey an enjoyable learning adventure".
"And the same nationwide network of trusted colleagues we've built up over the years allows us to offer unique Belize vacation packages that cover a wide range of interests across the whole of Belize. It's an arrangement that also provides a support system that gives our tours an extra level of comfort and security.
"Our guests take comfort in knowing that wherever they are in Belize, a Chaa Creek associate is never far away," Ms Fleming said.
"Having an eco-resort combined with Belize Expeditions allows us to offer a level of service that is quite unique. It gives travel agents and professionals confidence in knowing that we are responsible for all aspects of their clients' vacations, and our guests know that, from the moment we pick them up at Belize's international airport until we drop them off, they're in good hands.
"It also allows us to offer a high level of quality that is surprisingly affordable. The fact that we are one hundred percent family owned and operated means that we can be more flexible, more customer-focused and responsive to the wishes of our visitors. We've always been responsible to our guests rather than shareholders, and I think that shows," she said.
Do the Flemings miss the old days of Belize's Wild West?
"Belize being Belize, that sense of adventure and being surrounded by pristine nature and abundant wildlife is still very much alive. However, enjoying an excellent meal and relaxing in a Jacuzzi with a very good wine after touring in a comfortable air-conditioned van only adds to the experience, I think.
"And judging from the feedback we receive, I'd say our guests agree," Ms Fleming said.
The Lodge at Chaa Creek is a multi-award winning eco resort set within a 400-acre private nature reserve along the banks of the Macal River in Belize. It was recognised by National Geographic with first place honours at the 2017 World Legacy Awards held in Berlin.
ENDS