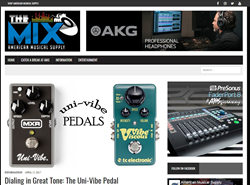 We add new features a few times a week, so it's well worth your time to keep checking back, says Greg Goldberg
Oakland, NJ (PRWEB) May 30, 2017
American Musical Supply (AMS) is pleased to announce the launch of its new blog, The Mix. With inspiring and wide-ranging stories, videos and product features, The Mix offers something sure to grab the attention—and hone the skills—of any instrumentalist, DJ, live/recording engineer, producer or singer.
The New Jersey-based online retailer of musical instruments, audio equipment, supplies and effects has long served as America's Advocate for Working Musicians. Now through its blog, The Mix, American Musical Supply has deepened that commitment, providing a steady supply of articles, interviews and performances that get to the heart of what it means to be a musician.
"We wanted to create a welcoming space for our customers," says Greg Goldberg. "A place where they can go, spend some quality time, be entertained, learn a new skill, and hopefully come away with a deeper appreciation of their talent."
Launched in February 2017, The Mix has already garnered a loyal following and a trove of fresh content—from everyday tips and tricks to interviews and performances by many of today's finest working musicians. Through a variety of mediums, visitors to the blog can learn how to string their instrument without worry, select the perfect DJ setup, or simply kick back and watch as world-class guitarists run through 12-bar blues solos.
One recent article at The Mix, titled "The Best Guitar Rig by Style of Music," covers the axes, effects, and amplifiers it takes to produce the sound guitarists are looking for, whether their preferred genre is heavy metal, country, or classic rock. In his article, "Best Amp for Electric Guitar," in-demand session player Freddy DeMarco (Steve Vai, Mike Keneally) goes deep into the differences between tube, solid-state, hybrid and modeling amps and helps readers sort out the advantages of each. Other articles crack the mystery of single-coil pickups, introduce five must-have effects pedals, and walk readers through the process of installing and tuning new drum heads.
Another section at The Mix, called "Catch a Break at AMS," features interviews and performances by rising musicians from around the U.S. Recent guests have included San Diego-based songwriter Raelee Nikole as well as the Gulf Coast soul collective The Suffers. Also at "Catch a Break at AMS," bandleader, violinist, and lead vocalist Jillian Rae and her husband, guitarist Eric Martin, sit down from their busy, multi-project schedule to talk about their music and their favorite gear.
Elsewhere on The Mix blog, via on-demand video, Grammy Award-winner Ani DiFranco explains her long-term relationship with Alvarez guitars, and Jennifer Batten, perhaps best known as Michael Jackson's longtime lead guitarist, explores the tonal possibilities of the Fishman TriplePlay wireless midi system.
"We add new features a few times a week, so it's well worth your time to keep checking back," says Greg Goldberg.
Visit American Musical Supply on Facebook or Twitter.
###