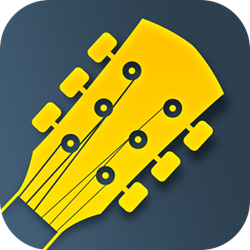 We hope users will appreciate our intuitive DoubleTune and enjoy learning chords in a fun way. We also took care of beginner players by introducing Tune Guard mode, so users can feel safe to tune their guitars without worrying about snapping the string
London, UK (PRWEB) May 29, 2017
London-based music app developer Gismart released DoubleTune, a brand new tuning app for iOS with unique Tune Guard mode and entertaining educational quizzes to help users learn chords and train musical hearing. DoubleTune was created with the help of professional guitarists with the purpose to make tuning process fast, accurate, intuitive and fear-free for inexperienced musicians who are afraid to snap the strings while tuning a musical instrument.
DoubleTune has several tuning modes such as standard guitar, ukulele, open string, drop tuning, double-dropped tuning, custom tuning, manual chromatic tuner, tune-by ear mode and pitch fork. There is also unique Tune Guard mode, a smart feature that helps tune string musical instruments safely and avoid breaking strings. With Tune Guard users are alerted with visual red signal and highlighted string when it is too tight and about to break. This mode is recommended for beginner musicians with lack of experience in tuning string instruments to keep the strings safe.
The professional tuning app also offers three educational games to learn chords, chords diagrams and train musical hearing. The games made in a form of fun competitive quizzes to stimulate users complete game levels with better scores in less time. Repetitive games' scenario allows users to gain knowledge and memorise chords faster. Users can easily transfer this learning experience to continue practice on real guitar.
DoubleTune offers high accuracy for tuning a range of string instruments. Except for acoustic, electric and bass guitars, DoubleTune is perfect for tuning ukulele, banjo, violin, cello and more.
"We hope users will appreciate our intuitive DoubleTune and enjoy learning chords in a fun way. We also took care of beginner players by introducing Tune Guard mode, so users can feel safe to tune their guitars without worrying about snapping the string," - comments Alex Minets, Gismart co-founder and CTO.
About Gismart
Gismart is a music app developer based in London, UK. Believing that anyone has a creative gene, Gismart aims to give people an opportunity to express themselves through music creation on mobile devices. Today the main company focus is put on music-making apps and social games where music lovers across the world can connect, collaborate and enjoy playing music together. With over 160 million downloads Gismart music apps and games are liked by people from all over the world.