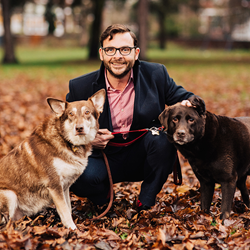 To establish that so many people find pets more fun to be with than children is quite a shock finding
(PRWEB) May 30, 2017
Confirming Brits as a nation of pet lovers, 38 per cent of pet owners said pets are more fun to be with than kids, with nearly 20 per cent agreeing strongly with the statement (18%). Only a third of adults sided with the kids and disagreed. The research shows little difference between the sexes, with 39 per cent of men and 36 per cent of women in agreement that pets are more fun than children. The surprising news comes as Aquarium Software encourages more pet parents to recognise the value of pet insurance; when it comes to protecting the pets that we treasure so much, 42 per cent of pet owners have never had pet insurance.
"As a dog owner myself, it's understandable many of us think our pets are great fun to be with. But to establish that so many people find pets more fun to be with than children is quite a shock finding," said Mark Colonnese, Sales and Marketing Director for Aquarium Software. "Given the results, the bigger surprise is that despite our pets giving so much pleasure and enriching our lives, more than two fifths of owners have never insured them. The industry needs to up its game in persuading owners of the value of insurance and similarly, pet parents need to wake up to the value of protecting the lives of their pets."
Sophisticated new treatments capable of curing pets should they fall ill are available, but without pet insurance, few owners will be able to afford it, with even a simple leg fracture for a dog or a cat costing as much as £6,000 to fix.
"Modern treatment can be expensive, so Aquarium is tailoring insurance sector technology for the unique challenges faced by pet insurers, ultimately making insurance more affordable to owners," added Colonnese. "The power to link vet, pet, parent and insurance provider helps identify where risks lie - and thanks to Big Data - price polices accordingly, ensuring we can enjoy being with our pets for longer."
Aquarium Software's specialist pet insurance solution spanning: rating, policy admin, billing, claims and mobile apps has been implemented by a number of insurers around the globe. For further information contact Aquarium Software on +44 (0)161 927 5620 or visit http://www.aquarium-software.com