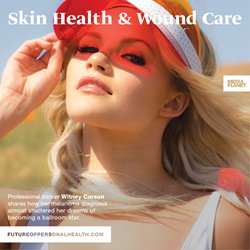 With over 87,000 new melanoma diagnoses expected in 2017, it is critical that skin health - particularly sun safety - be brought to the forefront as the summer season begins.
New York, NY (PRWEB) May 26, 2017
Mediaplanet is proud to announce the launch of its newest edition of the "Skin Health & Wound Care" campaign in USA Today, which will educate readers on how to take care of all aspects of their skin.
On the Skin Health side of the campaign, a large focus is placed on melanoma. Dancing with the Stars professional, Witney Carson, shares her journey with the disease that nearly cost her career. After a four-hour foot surgery, Carson was determined to get back on the dance floor as soon as possible, "I didn't tell anyone about it," she laughs. "I walked into the dance studio after surgery. I still had an open wound, but wrapped it up tightly. I looked down and there was a big puddle of blood on the floor. The wound had reopened, and my sock and shoes were drenched." Other industry leaders such as the Melanoma Research Alliance and AIM at Melanoma offer professional advice on how to prevent and treat skin cancer throughout the campaign.
On the Wound Care side of the campaign, readers are educated on how to spot and treat chronic wounds. Board-certified wound specialist Dr. Karen Albaugh offers her expertise in the industry through sharing advice for spotting a wound that is infected. She offers five key factors to look for and gives steps to follow if an infection has occurred. Other wound experts like the National Certification Board for Diabetes Educators as well as the Association for the Advancement of Wound Care also share their expertise.
The print component of "Skin Health & Wound Care" is distributed within the weekend edition of USA TODAY, in the Los Angeles, New York, South Florida and Chicago markets with a circulation of approximately 250,000 copies and an estimated readership of 750,000. Its digital component is distributed nationally, through a vast social media strategy, and across a network of top news sites and partner outlets. To explore the digital version of the campaign, click here.
This campaign was made possible with the support of Witney Carson, Melanoma Research Alliance, American College of Mohs Surgery, Association for the Advancement of Wound Care, American Society for Dermatologic Surgery, AIM at Melanoma, Dr. Karen Albaugh, Dr. Greg Bohn, American Board for Wound Management, Summer Sanders, National Certification Board for Diabetes Educators and Scargenix.
About Mediaplanet
Mediaplanet specializes in the creation of content marketing campaigns covering a variety of industries. We tell meaningful stories that educate our audience and position our clients as solution providers. Our unique ability to pair the right leaders with the right readers, through the right platforms, has made Mediaplanet a global content marketing powerhouse. Our award-winning stories have won the hearts of countless readers while serving as a valuable platform for brands and their missions. Just call us storytellers with a purpose. Please visit http://www.mediaplanet.com for more on who we are and what we do.
Press Contact:
Joelle Hernandez
Joelle.Hernandez(at)mediaplanet(dot)com
(646) 755-7965