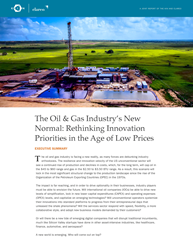 Unconventional oil and gas operators are setting the pace for innovation, and influencing larger IOCs to apply learnings to conventional production. Companies who are able to rapidly adopt ideas and scale them will create a competitive advantage.
Chicago, IL (PRWEB) May 31, 2017
In a new report on the oil and gas sector, authors urge companies to increase the pace of innovation and rethink business models--or struggle to win in this turbulent time.
The paper "The Oil & Gas Industry's New Normal: Rethinking Innovation Priorities in the Age of Low Prices" identifies five emerging trends that are disrupting the global ecosystem:

Market forces are fundamentally reshaping the industry.
Companies are simplifying, moving away from the traditional high-cost, complex system.
The primary operating system of the industry ecosystem is under threat.
Players must speed up the "idea to adoption" process.
Maximizing asset productivity is critical.
The implications are significant and widespread. Lead authors Peter Bryant and Satish Rao note that unconventional production will most likely keep prices in the $45 to $60 per barrel range for some time. The impact of this price cap is twofold: high-cost producers will struggle to thrive or survive, and there will be an urgent industry-wide imperative to become profitable at $45 to $55 per barrel.
Additionally, digital solutions represent a major opportunity. E&P companies are looking at non-traditional players as new partners, challenging the industry's status quo and the relevance of traditional players in the digital world. As a result, the business model is shifting to more of a mixed world of Silicon Valley-like companies and proprietary solutions developed by E&P companies.
"As in other industries, the oil and gas industry will see value shift from hardware, which is already getting commoditized, to insights that are enabled by this new digital technology and software," said Rao, partner at Clareo. "This is leading to a rush of new providers that are offering digital solutions."
The authors also point out that unconventional producers are turning away from traditional service companies. The producers believe regional service companies are better aligned to their needs based on their business model, price, flexibility, knowledge and speed. Although traditional service companies thrive in a "big field" world, they don't seem fast enough to respond to what is happening locally. This "big field dominance" is now in jeopardy as unconventional spending and the reliance on the service companies continue to decline.
"The conventional sector has thrived on complexity and one-off solutions; it now has to move toward simplification and standardization to drive down costs and learn how to speed up the idea-to-adoption cycle," said Bryant, managing partner at Clareo and senior fellow at the Kellogg Innovation Network (KIN). "The lesson from other industries, from retail to power utilities, is that it is really hard for companies that are optimized for a certain world to pivot and reinvent themselves for a new world that, by its nature, invites new players. This represents an equal challenge to E&P companies focused upon large conventional projects and the traditional oil service companies."
The report elaborates on the ripple effects of each trend, envisioning the risks and the opportunities for IOCs, NOCs and unconventional operators. It also summarizes the key business challenges in the upstream oil and gas sector, the innovation priorities for each industry player and the implications.
"Unconventional oil and gas operators are setting the pace for innovation, and influencing larger IOCs to apply learnings to conventional production. Companies who are able to rapidly adopt ideas and scale them will create a competitive advantage," Rao added. "This scenario will create winners and losers based on who are able to adopt and adapt innovative approaches, and who struggle to do so."
The findings are based on interviews with executives from more than 20 organizations in the global oil and gas ecosystem, and supplemented with secondary research. Strategy firm Clareo and the Kellogg Innovation Network (KIN) conducted the research.
To read the entire report on the transformation in the oil and gas industry, visit http://www.clareo.com.
About Clareo
At Clareo our mission is to help businesses adapt and grow.
We help leaders adapt their businesses and create new ways to grow in rapidly changing markets. Together, we build the plans and capabilities that deliver results. We assist clients in improving strategy execution, finding radical improvements, developing entrepreneurial capabilities, rapidly taking new ideas to market, exploring plausible futures, and enhancing their competitive innovation capabilities.
Our clients choose Clareo when they want bold new ideas that get to market faster. Working alongside our clients, we create compelling strategies that lead to action.
About the Kellogg Innovation Network
Founded in 2003, the KIN is a global platform for collaboration between Kellogg School of Management faculty, corporate innovation leaders, non-profit organizations, and the government. KIN's mission is to facilitate dialogues that promote innovation-led growth and build long-term prosperity for industries and society worldwide. Through events like KIN Global, KIN Dialogues, and KIN Catalyst, KIN is building a network of thought leaders who have the collective ability to advance the global prosperity agenda. Keynote speakers from past events include management theorists Gary Hamel and Phil Kotler, former U.S. Secretary of Defense Bill Perry, former Supreme Commander of NATO Admiral James Stavridis, former Kraft Co-CEO Betsy Holden (also a KIN board member), Republic of Colombia President Juan Manuel Santos, and Abbott Labs CEO Miles White.