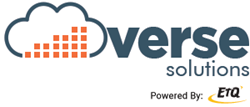 Farmingdale, New York (PRWEB) May 26, 2017
Verse Solutions is pleased to announce that it has been listed in MD&M East's list of must-see innovations.
MD&M East has put together a list of the top 11 most innovative products from medtech suppliers at the upcoming show. The finalists will be participating in MD&M East's Supplier Innovation Tour.
"Verse Solutions was designed with the needs of the small to mid-sized business in mind and is a cloud-based solution that is not only as dynamic as traditional enterprise systems, but is also flexible and cost-effective, making it accessible to companies of all sizes," stated Joseph Randazzo, vice president of strategic growth at Verse Solutions. "We're excited to have been listed as one of the 11 must-see innovations at MD&M East 2017 expo."
Verse Solutions is powered by EtQ and is backed by EtQ's 20+ years in delivering quality and compliance solutions.
Five finalists will be showcased at the MD&M East show from June 13-15 in New York City. Voting will continue until May 30th.
About MD&M East
MD&M East runs alongside five additional advanced design and manufacturing trade events, giving you access to a full spectrum of solutions in one end-to-end experience. Meet more than 900 of today's top suppliers in packaging, automation, plastics, design, and quality while exploring cutting-edge technologies that can deliver greater efficiency at lower cost.
About Verse Solutions
Quality, EHS and GMP Compliance Management software is becoming a growing requirement in businesses today. With the speed of the market ever-increasing, companies need solutions that will allow them to manage and track Quality, EHS and GMP Compliance processes, while automating these processes efficiently. Verse Solutions was developed to enable organizations to gain these valuable tools in a cost-effective manner. Verse Solutions has all the key processes such as Document Control, Corrective Action, Audits, Complaint Handling, Incidents and Training in a dedicated cloud environment. This means you have an enterprise Compliance Management System in your own personal cloud. For more information, visit us at http://www.versesolutions.com or blog.versesolutions.com.