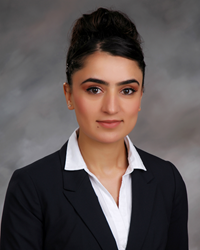 Fairfax, Virginia (PRWEB) May 30, 2017
Livesay & Myers, P.C. proudly announces the promotion of attorney Laila Raheen to the position of Senior Associate.
Ms. Raheen graduated with honors from the University of Toronto in 2008. She then enrolled in a certificate program in Chemical Analysis at Ryerson University in Toronto. However, seeking a career that would allow her to work directly with people and help them in their daily lives, Ms. Raheen switched gears and enrolled in law school. She proceeded to graduate cum laude from the University of Richmond School of Law in 2013 and was admitted to the Virginia State Bar later that year.
Ms. Raheen began her legal career at a general practice law firm in Chantilly, Virginia. Working for several different firms in Northern Virginia over the next two years, she gained valuable experience in civil litigation and trial practice. Ms. Raheen also built up a strong background in Virginia family law, working on a large number of child custody and divorce cases. She then joined Livesay & Myers, P.C. as an associate attorney in 2015, practicing exclusively family law.
Since joining the firm, Ms. Raheen's courtroom skills, attention to detail and tireless work ethic have consistently translated into positive results for her clients. Ms. Raheen has received a large number of excellent reviews and testimonials online, and Avvo awarded her the Clients' Choice Award in 2016–2017. Ms. Raheen was also named one of the 10 Best Family Law Attorneys in Virginia for Client Satisfaction by the American Institute of Family Law Attorneys in 2016–2017.
Ms. Raheen works in the Fairfax office of Livesay & Myers, P.C., and represents clients in Fairfax, Alexandria, Arlington and all across Northern Virginia. She resides with her husband in Northern Virginia.
About Livesay & Myers, P.C.
The law firm of Livesay & Myers, P.C. opened its first office in Woodbridge, Virginia in March 2003, and has grown steadily since. The firm now stands at 19 attorneys across four offices in Northern Virginia, representing clients in family law, criminal defense, estate planning and immigration law matters.