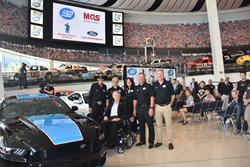 Woodbury, NY (PRWEB) May 28, 2017
Military AutoSource, a subsidiary of Overseas Military Sales Corporation, in partnership with Petty's Garage today announced a new limited edition Warrior Mustang during an unveiling at the NASCAR Hall of Fame hosted by "The King" Richard Petty. The one-of-a-kind, high-performance Ford Mustang will be sold exclusively to the military community stationed on U.S. bases overseas.
There will be only eight produced of this first Petty's Garage Warrior, and they will feature the strength and personality you would expect from a vehicle built for the military; especially one from these two iconic brands: Petty and Mustang. The supercharged 670 horsepower Mustang features a Magnaflow cat-back exhaust, and a slew of Petty's Garage features including a race inspired spoiler, Ford Performance lower springs and more. Each vehicle will feature custom Warrior interior and exterior badging including embroidered leather seats and a dash plaque personally signed by "The King" himself.
The Warrior specialty vehicle program is available exclusively through Military AutoSource, offering custom, limited edition models designed and produced specifically for our troops. Military AutoSource has partnered with some of the leading names in vehicle customization and performance to craft vehicles that are not only unique but also reflect the spirit of leadership and excellence that exemplify our military. Military AutoSource and its retail partner The Exchange (Army & Air Force Exchange Service) are committed to providing access, value and benefits to those who serve, and the Warrior program is an extension of this mission.
"We are truly excited to be partnering with the Petty team to add a Petty's Garage edition to our Warrior vehicle program," says Steve Frisch, Military AutoSource's Senior Vice President. "The Petty's Garage commitment to create an ownership and driving experience that is both memorable and personal is entirely aligned with our mission. We know our troops are going to love this Mustang and can't wait to bring it to them."
Petty himself is also proud to offer this new line of Warrior Mustangs for those who serve abroad.
"Our family makes a living out of racing and high-performance cars, but none of that is possible without the men and women who fight every day for our freedom," said Petty, Owner of Petty's Garage. "Our partnership with Military AutoSource is allowing us to take specialty-built Ford Mustangs and offer them to our men and women overseas. We think they are really going to enjoy them."
A portion of proceeds from each Petty's Garage Warrior Ford Mustang vehicle sold will benefit Paralyzed Veterans of America. Paralyzed Veterans of America, a congressionally chartered veterans service organization founded in 1946, has developed a unique expertise on a wide variety of issues involving the special needs of our members - veterans of the armed forces who have experienced spinal cord injury or dysfunction. Petty have long been supporters of the efforts of the Paralyzed Veterans to support our nation's veterans following a catastrophic injury.
-30-
About Military AutoSource
Military AutoSource (MAS) is a subsidiary of Overseas Military Sales Corporation (OMSC) based in Woodbury, New York. For close to 60 years, Military AutoSource has been serving the military community by providing U.S. specification automobiles and motorcycles to active duty military, civilian, DOD employees and the diplomatic community stationed on U.S. installations outside the United States. The on-base division of Military AutoSource is authorized by The Exchange (AAFES) and Navy Exchange (NEXCOM) and maintains operations in close to 70 locations in over 20 countries. You can learn more about Military AutoSource at http://www.militaryautosource.com.
To learn more about the Petty's Garage Warrior, please visit http://militaryautosource.com/pettywarrior.
About Petty's Garage
Founded in 2008, Petty's Garage is a high-performance speed shop owned by "The King" Richard Petty. Headquartered in Level Cross, North Carolina, Petty's Garage occupies the legendary Petty facility that produced winning stock cars for more than 50 years. Petty's Garage specializes in performance upgrades, restorations, luxury personal builds, custom builds, supercharged engines, paint and body, exhaust upgrades, brake systems, custom interiors, tires and wheels, custom fabricated projects, and corporate builds. If you can dream it, Petty's Garage can build it. For more information on Petty's Garage, please call 336-498-3745 or visit http://www.pettys-garage.com.
About The Exchange
The Army & Air Force Exchange Service goes where Soldiers, Airmen, and their families go to improve the quality of their lives through goods and services provided. Exchange earnings provide dividends to support military morale, welfare, and recreation programs. The Exchange is part of the Department of Defense and is directed by a Board of Directors, responsible to the Secretaries of the Army and Air Force through the Chiefs of Staff. To find out more about the Exchange history and mission or to view recent press releases please visit our Web site at https://www.shopmyexchange.com/ or follow us on Twitter at https://twitter.com/ExchangePAO.
About Paralyzed Veterans
Paralyzed Veterans of America is the only congressionally chartered veterans service organization dedicated solely for the benefit and representation of veterans with spinal cord injury or disease. For 70 years, we have ensured that veterans have received the benefits earned through their service to our nation; monitored their care in VA spinal cord injury units; and funded research and education in the search for a cure and improved care for individuals with paralysis.
As a partner for life, Paralyzed Veterans also develops training and career services, works to ensure accessibility in public buildings and spaces, provides health and rehabilitation opportunities through sports and recreation and advocates for veterans and all people with disabilities. With more than 70 offices and 34 chapters, Paralyzed Veterans serves veterans, their families and their caregivers in all 50 states, the District of Columbia and Puerto Rico (pva.org).
###