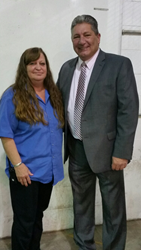 The never ending encouragement among management and the employees has led me to where I am today
Holbrook. New York (PRWEB) May 30, 2017
GRx extends their congratulations and best wishes to Cathy Knight on celebrating 10 years with the company.
Cathy joined GRx in 2007 as a receiving sorter in the warehouse. In 2009, Cathy was promoted to Lead where she oversaw processors, verified data entry and distribution of products as well as created department standard operational procedures. Her ability to recognize and react to opportunity earned Cathy two more promotions to Supervisor of Receiving and to the position she holds currently, Assistant Manager of Receiving. She is responsible for distribution of palletized products, processing, and ordering and delivery of warehouse material. Cathy's careful attention to detail and organization ensures the efficiency of operations. Her extra effort, dedication and insights are all extremely valuable to the success of GRx.
"I have thoroughly enjoyed and appreciated my years at GRx. The many different positions I've held have been a tremendous learning experience. I've consistently had the opportunity to grow and broaden my experience and knowledge within the company and about the pharmaceutical returns industry. The never ending encouragement among management and the employees has led me to where I am today. I look forward to many more wonderful years at GRx," said Cathy Knight, Assistant Manager of Receiving.
About GRx
For over 25 years, GRx has provided pharmaceutical return services to hospital, government, independent retail, chain-store, LTC, Mail-Order and clinic pharmacies. Local GRx on-site service representatives are highly valued by customers for their professionalism, trustworthiness and for "going above and beyond." Business review consultations, inventory management assistance and unbeatable customer service are just a few of the attributes that customers say sets GRx apart.
Contact GRx at 1-800-473-2138, or on LinkedIn