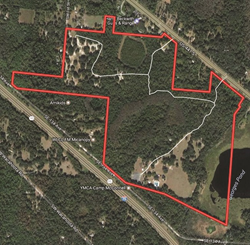 This was a difficult and emotional decision
MICANOPY, FL. (PRWEB) May 27, 2017
The historic YMCA Camp McConnell has been serving young campers for nearly 50 years. Camp McConnell has provided the opportunity for tens of thousands of children to create impactful, lifelong friends and memories through their experiences at camp. Camp McConnell also provides a wealth of ecosystem services including a diverse wildlife habitat, watershed management and a living outdoor laboratory for campers.
The YMCA of Palm Beaches, who have owned and operated the camp since its creation in 1968, have enjoyed watching campers grow into successful adults. Over the years, however, the percentage of campers originating from the YMCA of the Palm Beaches core service area of Palm Beach county has significantly decreased. The board of the YMCA of Palm Beaches faced a difficult decision and ultimately decided it was necessary to place the camp for auction and focus its resources on needed facility improvements at its main location in West Palm Beach.
"This was a difficult and emotional decision," said Tim Coffield, CEO of the YMCA of the Palm Beaches. "Several of our board members attended Camp McConnell in their youth and all of us were proud of the experiences our Y had been able to provide young people at Camp McConnell over the years. Thankfully, with three other YMCA camps within an hour and a half driving distance of Camp McConnell, many of the campers have settled into other Y camps."
The facilities of the YMCA Camp McConnell include an Olympic size pool, air conditioned and heated overnight cabins, certified challenge course, archery and gun ranges, arts and crafts hall, campfire circle, a large lodge and dining hall, outdoor religious center, access to George's Pond, a six stall horse barn and so much more. Located just six miles south of Gainesville, Camp McConnell's 211 acres of hardwood forest, meadows and wetlands provide the perfect setting for group activities.
The auction for Camp McConnell is scheduled to take place on June 22, 2017 beginning at 10:00 am on the property and will be facilitated by United Country Land & Lifestyle Properties, Jib Davidson, Broker, of Gainesville and United Country | Auctions of the South, LLC, Stephen F. Burton, Assoc. Broker/Auctioneer (AU 649 AB 3416) of Madison, Fla. This auction is heartfelt to the staff of United Country Land & Lifestyle Properties as one of the Realtors® attended Camp McConnell numerous times in his youth and created lifetime memories while at camp.
About United Country
United Country Real Estate – a division of the United Real Estate Group – is the leading, fully integrated network of conventional and auction real estate professionals. The company has been an innovator in lifestyle and country real estate marketing since 1925. United Country supports nearly 500 offices and 5,000 real estate professionals across four continents, with a unique, comprehensive marketing program that includes the highest ranked and largest portfolios of specialty property marketing websites, the largest real estate marketing services company, an extensive buyer database of more than 550,000 opt-in buyers and exclusive global advertising of properties.
# # #