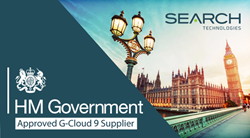 "Now through the marketplace, public sector customers will have faster and more cost effective access to our services and solutions."- Kamran Khan, CEO, Search Technologies
London, UK (PRWEB UK) 30 May 2017
Search Technologies, the leading IT services firm specialising in the design and implementation of enterprise search and big data analytics applications, is pleased to announce that it has been accepted as an approved supplier for the G-Cloud 9 UK Digital Marketplace for Public Sector organisations.
The UK Digital Marketplace is a listing for buyers and suppliers of cloud technology, digital outcomes, digital specialists, user research participants and labs. All UK public sector organisations can use the Digital Marketplace to find resources and technologies for digital projects.
"Search Technologies is very pleased to be listed in the G-Cloud 9 UK Digital Marketplace. We have proudly been providing trusted and proven enterprise search and big data solutions to UK public sector customers for more than a decade. Now, through the marketplace, public sector customers will have faster and more cost effective access to our services and solutions," said Kamran Khan, CEO of Search Technologies.
Search Technologies' services available on the UK Digital Marketplace include:

Search and big data strategy consulting
Search application assessment
Search quality analysis
Enterprise search implementation
Search relevancy improvement
Training
Managed services
Search Technologies has provided search and big data consulting services for hundreds of customers globally, in both the public and commercial sectors. Some public sector customers include SCIE (Social Care Institute for Excellence), Business Link, United Nations, Ministry of Justice, EU Publications Office, US Government Printing Office, US Library of Congress, and US National Archives.
Search Technologies can be found on the UK Digital Marketplace. For more information, visit our G-Cloud Service Offerings page or contact digitalgovUK@searchtechnologies.com.
About Search Technologies
With more than 800 customers worldwide, Search Technologies is the leading trusted and independent technology services firm specialising in the design, implementation, and management of search and big data analytics applications. Our experienced consultants and unique technical assets help us deliver customised search and analytics applications that are easier to use, less expensive, more powerful, and more reliable. To learn more, visit us at http://www.searchtechnologies.com.