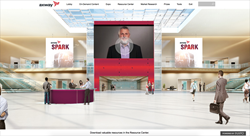 Chicago, IL (PRWEB) May 30, 2017
Last week at the Sirius Decisions Summit in Las Vegas, INXPO customer, Axway won the Sirius Decisions Program of the Year Award for Integrated Communications. The award is chosen by Sirius analysts who evaluate which communications programs in 2016 are "best in class".
Congratualtions to Axway for successfully transforming their brand and using an Online Event and Webcasting technology to meet their business objectives. INXPO is honored to have played a part in Axway's brand transformation for Axway Spark, providing the virtual and on-demand conference platform for the brand annoucement.
"By hosting our live broadcast through INXPO, we were able to reach over 1,600 partners, customers and employees, spanning over 37 countries, on the live day of the launch," Jeffery Gross, SVP and CMO of Axway said.
Following the live event, Axway shifted the virtual conference into an open 365 community, powered by INXPO, to continually keep their audience informed with ongoing webcasts, and serve as a forum for their partners.
"This was our first major rebranding since we were founded in 2001, and that made it a cultural shift for our employees and customers. INXPO's marketing and event strategy services helped to ensure the event was a success and well received by our audience," Gross said.
To visit Axway's award winning platform click here.
About INXPO
INXPO's Event Cloud® empowers organizations to reach their stakeholders through engaging online video events — on any device, at any time. Our solutions for Marketing, Corporate Communications, Training and Sales Enablement are trusted by many of the world's most esteemed enterprises, including Aon, Cisco, Gap, Microsoft and UnitedHealthcare, to create memorable online experiences. To learn more about how INXPO can fit into your organization's communications strategy contact us at contactus@inxpo.com or call us at (312) 962-3708.
About Axway
Axway (Euronext: AXW.PA) is a catalyst for transformation. With Axway AMPLIFY™, our cloud-enabled data integration and engagement platform, leading brands better anticipate, adapt and scale to meet ever changing customer expectations. Our unified, API-first approach connects data from anywhere, fuels millions of apps and delivers real-time analytics to build customer experience networks. From idea to execution, we help make the future possible for more than 11,000 organizations in 100 countries. To learn more about Axway, visit http://www.axway.com. Twitter: @Axway