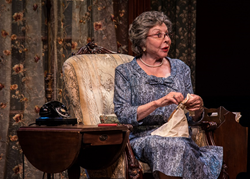 "Driving Miss Daisy" is the first play in Totem Pole Playhouse's four-show, subscription series.
Franklin County, PA (PRWEB) May 26, 2017
The Franklin County Visitors Bureau recommends a visit to Franklin County PA for "Driving Miss Daisy," the opening show of Totem Pole Playhouse's 67th season. Four-time Emmy Award-winning actress, Michael Learned, best known for her role as 'Olivia Walton,' the matriarch of the series, The Waltons, stars as Daisy Werthan. The popular film version of "Driving Miss Daisy" went on to win nine Academy Awards including Best Picture.
Set in mid-century Atlanta, "Driving Miss Daisy" tells the story of Werthan and her chauffeur, Hoke Colburn. At first, Daisy is none too happy about being forced to rely on a black man to get her from one place to the next. However, Hoke gradually wins her over, and during the 25-year span of the play, the two develop a deep-rooted affection. This Pulitzer Prize-winning masterpiece is a delicate depiction of racial tensions, the passage of time, and the experience of aging.
Lance E. Nichols, who starred for four seasons in the critically-acclaimed HBO series, Treme, as well as appearing in over 150 films and television series, will play opposite Ms. Learned. Shippensburg University Professor of Theatre and Greencastle resident, Paris Peet, will play Boolie Werthan, Daisy's son. Michael Bloom, former Artistic Director of the Tony-Award winning Cleveland Play House and director of last season's Six Dance Lessons in Six Weeks, directs the production.
"Driving Miss Daisy" is the first play in the theatre's four-show, subscription series. The production will have three low-cost previews: Friday, May 26, at 8pm and Saturday, May 27, at 2pm and 8pm with all general admission seats only $20.00. Tickets for remaining performances are $45 and available online at http://www.TotemPolePlayhouse.org or by calling 888.805.7056.
The Franklin County Visitors Bureau invites all to explore Franklin County PA and enjoy trails of history, arts and architecture, recreation, natural beauty, fresh foods and the warm hospitality of communities like Chambersburg, Greencastle, Mercersburg, Shippensburg, and Waynesboro. Franklin County PA is located just north of the Mason Dixon Line and is an easy drive to Washington DC, Philadelphia, and Pittsburgh. Discover more....plan a visit soon at ExploreFranklinCountyPA.com or by contacting 866.646.806