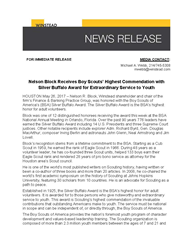 Houston, Texas (PRWEB) May 30, 2017
Nelson R. Block, Winstead shareholder and chair of the firm's Finance & Banking Practice Group, was honored with the Boy Scouts of America's (BSA) Silver Buffalo Award. The Silver Buffalo Award is the BSA's highest honor for adult volunteers.
Block was one of 12 distinguished honorees receiving the award this week at the BSA National Annual Meeting in Orlando, Florida. Over the past 90 years 776 leaders have earned the Silver Buffalo Award including 14 U.S. Presidents and three Supreme Court justices. Other notable recipients include explorer Adm. Richard Byrd, Gen. Douglas MacArthur, composer Irving Berlin and astronauts John Glenn, Neal Armstrong and Jim Lovell.
Block's recognition stems from a lifetime commitment to the BSA. Starting as a Cub Scout in 1959, he earned the rank of Eagle Scout in 1966. During 48 years as a volunteer leader, he has co-founded three Scout units, helped 133 boys earn their Eagle Scout rank and rendered 28 years of pro bono service as attorney for the Houston area's Scout council.
He is one of the world's most published writers on Scouting history, having written or been a co-author of three books and more than 20 articles. In 2008, he co-chaired the world's first academic symposium on the history of Scouting at Johns Hopkins University, featuring 30 scholars from 10 countries. He is an advocate for Scouting as a path to peace.
Established in 1925, the Silver Buffalo Award is the BSA's highest honor for adult volunteers. It is awarded for to those persons who give noteworthy and extraordinary service to youth. This award is Scouting's highest commendation of the invaluable contributions that outstanding Americans make to youth. The service must be national in scope and can be independent of, or directly through, the Boy Scouts of America.
The Boy Scouts of America provides the nation's foremost youth program of character development and values-based leadership training. The Scouting organization is composed of more than 2.3 million youth members between the ages of 7 and 21 and nearly 1 million volunteers in local councils throughout the United States and its territories.
Winstead PC is a national business law firm with more than 325 attorneys. The firm provides a full range of business legal services to some of the most recognized and respected companies across the country and throughout the world. Winstead has offices in Austin, Dallas, Fort Worth, Houston, San Antonio and The Woodlands, Texas and Charlotte, North Carolina. For detailed information about Winstead, visit http://www.winstead.com.
# # #