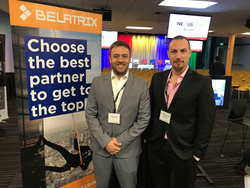 San Francisco, California (PRWEB) May 26, 2017
Belatrix Software, a leading software development company, sponsored the Nexus 2017 conference held at Google's Campus in San Francisco. The event brought together executives and thought leaders to discuss and explore the opportunities that nearshore services can provide both established companies and emerging start-ups in Silicon Valley.
During the event Belatrix introduced companies to a recently launched service specifically targeted at start-ups in their early stages. Belatrix's Innovation Lab is designed to help such companies with the best possible ecosystem to speed up the process of creating their minimum viable product (MVP). This MVP can then be shown to potential investors or customers. The service involves support from Belatrix's user experience lab, mobile lab, continuous integration/development lab, and test automation lab.
Meanwhile, the event kicked-off with a talk given by the global lead of Google's Accelerator and Start-Up program, Roy Geva Glasberg. He explored how start-up success relies on the pillars of mentorship, investment, and policy. He also spoke of the depth of technical talent that they can see in areas throughout the world, not just in Silicon Valley.
Participants discussed how Latin America has witnessed the highest growth in services headcount over the past 2 years compared with other locations from Asia to Eastern Europe. This reflects how the industry continues to go from strength to strength. In the midst of a changing political environment in the USA, mixed with the explosion of new technologies such as automation and machine learning, nearshore technology services have become increasingly attractive to companies who want to find the best talent, but do not need to concern themselves about possible visa changes.
Fernando Gonzalez, Belatrix's Vice President of Marketing, attending the event commented that, "it was great to see the vibrant nearshore industry discuss the future of technology services. Thank you to Nearshore Americas for organizing the event."
About Belatrix Software:
Belatrix Software helps clients achieve the full impact of their R&D capabilities developing high quality, innovative software, QA, testing and mobile solutions that enables clients to generate best-in-class software products, decrease time to market, and gain competitive edge.
Belatrix's clients include both established Fortune level and emerging, venture backed firms. Some of the firm's clients are Disney, Adobe, SiriusXM, mFoundry, and Chatham Financial. Belatrix is a South American company with offices in Fort Lauderdale, New York, San Francisco, Mendoza, Buenos Aires, Bogotá and Lima. For more information, visit http://www.belatrixsf.com.