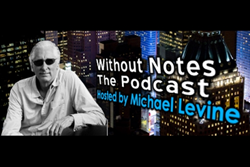 Los Angeles, CA (PRWEB) May 27, 2017
The world's premier Podcast platforms, iTunes and Soundcloud, have both picked up the new long-form conversation podcast titled "Without Notes – The Podcast" hosted by prominent media expert and best-selling author Michael Levine ,effective immediately ,according to podcast executive producer Ryan McCormick. The weekly show, which features host Levine in a half-hour long-form conversation with a prominent thought-leader guest, began in February 2017 and has gained a growing and loyal audience throughout the world.
"In our modern world, people are craving long-form, real, authentic, non-scripted conversations with fascinating and influential guests" said Levine. "In the world of Twitter, Snapchat and texting, people want fully articulated ideas, not little sound-bites."
iTunes is a media player, media library, online radio broadcaster, and mobile device management application developed by Apple Inc. It is used to play, download, and organize digital downloads of music and video (as well as other types of media available on the iTunes Store) on personal computers running the macOS and Microsoft Windows operating systems. The iTunes Store is also available on the iPhone, iPad, and iPod Touch.
SoundCloud is an online audio distribution platform based in Berlin, Germany, that enables its users to upload, record, promote, and share their originally-created sounds. SoundCloud's content is evenly split between music and other audio. Founders Alexander Ljung and Eric Wahlforss are the chief executive officer (CEO) and chief technical officer (CTO), respectively.
The host of "Without Notes – The Podcast" is America's premier expert and best-selling author Michael Levine, who is the author of 19 books including 5 international best-sellers.(http://www.MichaelLevineMedia.com).
The Podcast is executive produced by Ryan McCormick, who also hosts his own popular Podcast titled "The Outer Limits of the Inner Truth Radio Show" (http://www.outerlimitsradio.com/). "I am honored to be associated with this new Podcast. I get to eavesdrop on some of the most interesting and informative conversations anywhere," said McCormick. Associate Producer for the Podcast is Levine associate, Dan Gaylord.
Find "Without Notes" on SoundCloud at: https://soundcloud.com/user-303627303
Find "Without Notes" on iTunes at: https://itunes.apple.com/us/podcast/without-notes-the-podcast-with-michael-levine/id1233910372?mt=2