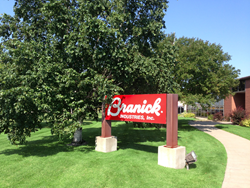 Fargo, ND (PRWEB) May 28, 2017
Branick Industries, globally known as a leader in tire service and inflation equipment, has reached a milestone that many companies never see, 100 years of producing tire handling and service equipment.
Branick Industries was founded in 1917 by Earl Branick and quickly became a mainstay with the introduction of the first tire spreader. Mr. Branick opened a tire vulcanizing business in Dickinson, ND in 1910 but found the very young tire industry a challenge, especially in a rural area. After serving in the military during WW I, he spent two years learning the industry while working for Goodyear and Firestone in Akron, OH. In 1917 he returned to his native ND and opened a small shop in Fargo, ND selling tire handling equipment.
Mr. Branick was a prolific inventor, with hundreds of patents over the course of the next 50 years. He specialized in pneumatic powered equipment that could simplify and speed tire repair and service. The first tire spreader was introduced about 1930 and quickly became a mainstay in shops across America. Other items such as bumper jacks, inflation cages, tire dollies and a variety of spreaders made Branick a global name.
Branick is still a world leader in the tire equipment industry selling products like the Model 7600 Strut Spring Compressor, a large line of tire inflation cages, tire repair and inspection spreaders and the largest nitrogen inflation selection in the world. Recent new equipment introductions include the Model 5300 tire spreader, Model 5025 tire spreader, and the Airhead Digital BK4 Inflator.
Branick will be celebrating the anniversary with an event on June 23 with many local and national dignitaries in attendance as well as family and friends of current and past employees. The invite only event will include special guest speakers, a buffet style dinner and drinks, tours of the manufacturing facility and a chance to see every product Branick offers.
With the ever-changing economic environment, surviving 100 years is a great milestone. But with a commitment to producing innovative and high quality products with great service at a competitive price Branick may well be celebrating an anniversary again in another 100 years.
To learn more about Branick or any of their products call 800.437.4394 or visit http://www.branick.com.
Branick was founded 100 years ago with the introduction of the tire spreader, invented by Earl Branick. Since then, Branick has been an industry leader in tire service and tire inflation equipment, nitrogen systems and retread equipment. Branick holds the number one position for numerous products including strut compressors, brake bleeders, and nitrogen inflation systems. With over 1,000,000 customers worldwide, Branick proudly remains focused on the tradition of quality instilled by Mr. Branick, while the team of R&D engineers continues his legacy of innovation. With manufacturing locations in the USA Heartland, Branick Industries is committed to maintaining the well-earned reputation for quality, service, innovation, and value.