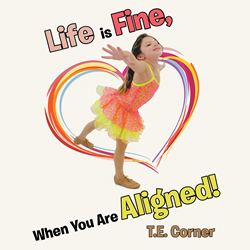 PHILADELPHIA (PRWEB) May 29, 2017
A Philadelphia-based author has just released the third installment in his inspirational children's book series. "Life is Fine, When You Are Aligned!" by author T.E. Corner, aims to teach children about self-acceptance at an early age.
'Aligned!' follows main character Kylie, who is the protagonist in Corner's previous books, "List for Santa, List for Life!" and "Positive Thoughts, Positive Life!" in her most recent adventure, Kylie faces several trials and tribulations, but faces each one head-on, with a smile on her face. Throughout her adventures, Corner highlights several different core values parents can teach their children, letting them know that, no matter how tough things get, to always stay positive.
Corner incorporates several of his personal experiences with his daughters into his books, including "Life is Fine, When You Are Aligned!" in fact, the cover girl is his second daughter, Jordan. Corner has spoken to several elementary schools and often mentions his daughter's experiences. He hopes children and parents alike will take something away from his book series.
"It is my intention to uplift and inspire children and adults with my books," said Corner. "This book is to help children find self-acceptance and happiness far sooner in life than it took me."
A fun, lighthearted adventure about teaching children the importance of staying positive, "Life is Fine, When You Are Aligned!" is a fun treat for parents and children alike. For more information about the author and his book series, please visit his website.
"Life is Fine, When You Are Aligned!"
By T.E. Corner
ISBN: 978-1-5043-7492-7 (softcover)
Available at Balboa Press, Amazon and Barnes & Noble
About the author
T.E. Corner is an author and national accounts relationship manager.
###
Review Copies & Interview Requests:
LAVIDGE – Phoenix
Chris Peña
480-998-2600 x 519
cpena(at)lavidge(dot)com
General Inquiries:
LAVIDGE – Phoenix
Bryan Beach
480-998-2600 x 510
bbeach(at)lavidge(dot)com