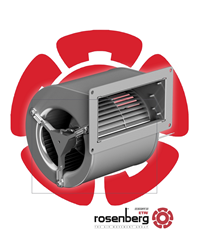 They are CE-approved and meet ErP 2015 efficiency requirements.
CHARLOTTE, N.C. (PRWEB) May 30, 2017
Rosenberg USA is expanding its offering of constant pressure and constant airflow blowers with two new 180x180L EC double inlet models from Ecofit. A new standard pressure/airflow model is also available. Constant pressure and constant airflow blowers automatically adjust to maintain optimum performance levels in changing conditions.
The new forward-curved centrifugal blowers, designated the GDSV8 Series, are powered by 230-Volt (actually 200 to 277-Volt), 1-phase, 50/60 Hz EC motors. They run at speeds as high as 2255 RPM and generate a maximum airflow of more than 1000 CFM at free air. Speed control is possible through PWM, 0-10VDC, or a potentiometer.
Their electronically commutated (EC) motors in the new blowers allow for easy speed control, long life expectancy and low operating costs. The new fans are CE-approved and meet ErP 2015 efficiency requirements.
Standard features include IP54 protection, a black-painted steel scroll housing, galvanized rotor and turbine, ball bearings, G2.5 balancing, Class F winding, and thermal protection. Finger guards are available as options.
In addition to standard products, Ecofit fans can be built to specifically meet customers' unique needs such as special finishes, voltages, or frequencies.
About Rosenberg
The Rosenberg family of companies is headquartered in Künzelsau, Germany and employs more than 1,000 individuals worldwide. Rosenberg fans and blowers can be found in HVAC systems, as well as industrial and portable air conditioning; in air cooling for variable frequency drives (VFD), wind power generators and power converters, solar inverters, uninterruptable power supplies (UPS), transformers, heat sinks, fan coils, telecom racks and other industrial equipment; in air handling units and fan filter units (FFU); and in railway, marine, military and avionics equipment.
Rosenberg USA is located just outside Charlotte in Indian Trail, N.C. For more information, or to place an order, contact Rosenberg USA by phone at (704) 893-0883; fax (704) 882-0755 or e-mail sales(at)rosenbergusa(dot)com.