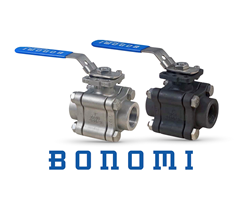 They are Fire Safe to API 607-6th Edition.
Charlotte, NC (PRWEB) May 30, 2017
Bonomi North America is introducing a new line of automation-ready full-port three-piece ball valves for high temperature and pressure industrial applications where safety is a primary concern. The new 630 (Carbon) and 730 (Stainless) Series valves conform to wall thickness and structure requirements of ANSI 16.34 and ANSI B1.20.1.
The new valves are available in sizes ¼-inch to 4 inches. They are rated to ANSI Class 900 through 2 inches and Class 600 from 2-1/2 through 4-inches. High-temperature TFM-4215 seats are standard. Grounded 316 stainless steel ball and stem are also standard. The 630/730 Series is Fire Safe to API 607-6th Edition.
Both the 630 and 730 Series are rated to 1500 psi in 2-1/2 through 4-inch sizes. Carbon steel models are rated to 2220 psi in sizes ¼-inch to 2 inches. Stainless steel models are rated to 2160 in ¼-inch to 2-inch sizes.
They come standard with ISO-5211 stem and direct-mount actuation pad to simplify automation. They are perfectly matched to the company's Valbia brand electric and pneumatic actuators. As a package, Bonomi valves and actuators offer the best automation performance in the industry.
A latch-lock handle is standard equipment on the 630/730 Series. Spring return handles are optional. Other options include oval handles, fugitive emissions bonnet, V-ball, seats in Delrin or PEEK, and body materials of Hastalloy, Alloy 20 or Super Duplex. Threaded end connections are standard. They are also available in socket weld (Series 631/671) and butt weld (Series 632/732).
For more information on Bonomi high-performance three-piece ball valves or other Bonomi products, contact Bonomi North America at (704) 412-9031 or visit online at http://www.bonominorthamerica.com.
About Bonomi North America
Bonomi North America has served the U.S. and Canada since 2003 and is part of the Bonomi Group of Brescia, Italy. Bonomi Group brands include Rubinetterie Bresciane Bonomi (RB) brass ball valves and check valves; Valpres carbon and stainless steel ball valves; and Valbia pneumatic and electric industrial actuators. Bonomi North America maintains an extensive distribution network for these products from its headquarters in Charlotte, N.C. and a facility in Oakville, Ontario, Canada.