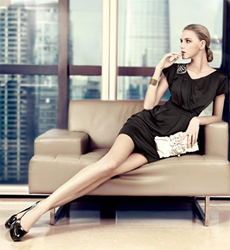 An average of 30-35% of applicants are admitted globally.
New York, NY (PRWEB) May 28, 2017
The world's most exclusive matchmaking and dating club guarantees that members will meet the right person. The club also guarantees its members a plethora of other perks to ensure incredibly high member satisfaction – says their club website "we are not remotely satisfied until you are completely content."
SEI Club, the global, private dating club for the ultra-affluent and exceptionally beautiful, serves gentlemen and women in all major cities of the US, Europe, and now Asia. They aim to help members find their lover, partner, and friend. Whether members are looking to date and see where it goes or if they are ready to meet "the one," and settle down, they introduce them to incomparable matches seeking the same.
Membership is exceptionally exclusive with an average acceptance rate hovering between 30-35% globally. Says a club spokesperson, " Since we're introducing incredible people to each other with the aim of facilitating meaningful relationships, it's important that we also do our best to ensure that every member is at a happy, healthy, positive place in their lives. So when they meet the right person they recognize and are truly able to deeply enjoy and appreciate it. It simply contributes to a more positive matchmaking and dating experience for everyone who participates." SEI Club positive member feedback shows that the club's proprietary matching system works extremely well.
When asked how many marriages and relationships they have helped facilitate, they say "too many to count…we've also many times, had more than one relationship per member…for instance if two members fall in love, and then in a few years decide they wish to end it…they can come back and we have introduced them to next matches whom they might marry and/or continue to enjoy a relationship with to this day…in these cases we've helped the same people enter more than one meaningful relationship over time, sometimes many years apart."
The club doesn't just provide elite services globally, they also have hard, no-nonsense guarantees to ensure that members know exactly what to expect when utilizing SEI Club's exclusive matchmaking and dating services:
The club guarantees that each member will meet the right person. The right person is different for everyone, which is why they always review each member's personal preferences with them – to ensure that each proposed introduction meets exactly whom they are looking for in love and life. Just imagine meeting someone for a first date and being really excited to see them again…often developing into a long-term relationship. SEI Club states that's fairly standard process…not every single date of course, they are professionals but they are still mortals...it only needs to happen once for each member to find their lover, partner, and friend.
SEI Club also guarantees that they'll effectively match each member with the right person. They have a strict policy that states anyone who doesn't get matched gets refunded their membership fees. Part of their success (which includes a large base of private referrals from members) includes making sure that everyone finds what they're looking for – or they simply shouldn't have to pay for the service. "That's only fair," says the spokesperson, "We want members to enjoy themselves, we are a positive force here to do good. From there the rewards come naturally."
For accomplished global leaders, career professionals, fashion models, CEOs, entrepreneurs…seeking to meet someone special for a meaningful relationship, SEI Club could be the perfect fit. An application for membership can be found through the club's website: http://www.seiclub.com
Find more about the club here: SEI CLUB
Ask the club dating questions here: SEI CLUB