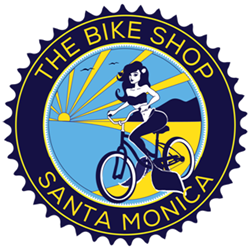 Santa Monica, CA (PRWEB) May 26, 2017
Bicycle industry retail veteran Andrew Smith has rebranded and relaunched the Original Bike Shop on Main Street across from Urth Cafe in Santa Monica as "The Bike Shop Santa Monica". The new image and remodel has already received rave reviews from native locals and tourists. (http://bikeshopsantamonica.com/)
"The Bike Shop is simply awesome," says Frank Fay of Santa Monica, "I recently purchased my dream bike from them and the buying and customer service experience was outstanding from start to finish. They are very attentive to customers' needs and requests, and really seek to provide 100% customer satisfaction."
Jen S. from Culver City says, "Andrew helped me pick out a bike and baby bike seat, made sure I knew how everything worked, helped me put the bike on my bike rack, and even fitted my baby with a helmet!"
The Bike Shop's seven-days-a-week service center can do complete overhauls or simple on the spot repairs, as well as make upgrades or modifications to your current bike. And, to set itself apart from other bike stores, Andrew Smith and his experienced team have started building custom bikes to fit whatever specific needs you may have as a rider. They carry and modify all the big brands, from Schwin to Bianchi.
"Our goal is to make everyone feel welcomed and leave satisfied," Andrew Smith exuberantly states.
The Bike Shops is located on 2400 Main Street in Santa Monica, CA. You can call to schedule an appointment or drop-off at 310-581-8014. They also accept walk-ins. The hours of operation are: Monday to Friday 10am-7pm Saturday and Sunday 10am-6pm.
For more details, visit their website: http://bikeshopsantamonica.com/