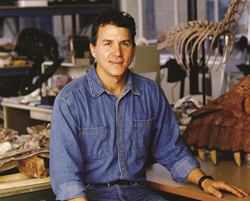 (PRWEB) May 26, 2017
This year's AniMotion Festival at the Kalamazoo Valley Museum features dinosaurs, art, animation, and world-renown paleontologist Dr. Paul Sereno. This free two-day event starts with Art Hop on Friday, June 2, from 5 to 8 p.m., and continues on Saturday from noon to 4 p.m.
During Art Hop, Aubrey Rodgers, an instructor from Kalamazoo Valley Community College's Center for New Media, presents The Art of Animation, followed by dinosaur-related animated clips from design students Hannah Spangler and Jordan Wilson. Zak Sliuzas, Kalamazoo Valley Community College alumni, will show his visual art, autograph dinosaur posters he created, and debut his dinosaur short film.
Paleontologist Paul Sereno will speak about "Our Hidden Genius" at 2 p.m. on Saturday, June 3. Sereno studied art and biology as an undergrad at Northern Illinois University. He discovered paleontology after a behind-the-scenes museum tour. His work soon became an exciting blend of art, history, and science wrapped in adventure. He explains, "I see paleontology as adventure with a purpose. How else to describe a scientific discipline that allows you to romp in remote corners of the globe, resurrecting gargantuan creatures that have never been seen? The trick to big fossil finds? You've got to be able to go where no one has gone before – while learning to enjoy 125-degree heat."
Sereno has discovered fossil remains on five continents, visiting the Andes in Argentina, the African Sahara, Asia's Gobi Desert, India's Thar Desert, and remote valleys in Tibet, as well as Niger, Morocco, India, and Xinjiang. One of his most famous discoveries is a 40-foot-long dinosaur-eater dubbed "SuperCroc." Sereno has been featured in National Geographic magazine and many documentaries, and has authored three books: National Geographic's Digging for Dinosaurs, SuperCroc: Paul Sereno's Dinosaur Eater, and How Tough Was a Tyrannosaurus? He will be available for book signings from 12:30 to 1:30 and 3 to 4 p.m. Cash-only sales available.
Sereno was named Teacher of the Year in 1993 by the Chicago Tribune and was awarded the University Medal for Excellence from Columbia University in 1999. He is co-founder of Project Exploration, a novel science organization that recruits future scientists among urban youth. That effort earned the Presidential Award for Excellence in Science, Mathematics, and Engineering Mentoring from the White House (2009). Dr. Sereno is a professor at the University of Chicago and Explorer-in-Residence at the National Geographic Society. Find out more at http://www.paulsereno.org.
Kalamazoo Valley animation students and volunteers will help visitors create flipbooks, learn to draw dinosaurs, create storyboards, sculpt clay dinosaurs, and film stop motion animation at hands-on stations on Saturday from noon to 4 p.m., and Aubrey Rodgers repeats her presentation of The Art of Animation at noon.
The AniMotion Festival is sponsored by the Kalamazoo Valley Community College Foundation and is presented by by the Kalamazoo Valley Museum and the Center for New Media of Kalamazoo Valley Community College. Admission to the Kalamazoo Valley Museum is free. The Kalamazoo Valley Museum is operated by Kalamazoo Valley Community College and is governed by its Board of Trustees.
Media Contact
Bill McElhone
Kalamazoo Valley Museum Director
269-373-7990, wgouldmcelh(at)kvcc(dot)edu