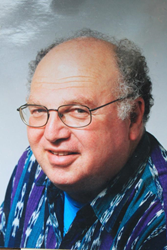 Milwaukee, WI (PRWEB) May 30, 2017
David Zilberman, a professor in the Agricultural Resource Economics Department at the University of California, Berkeley, has been elected as President-Elect of the Agricultural & Applied Economics Association (AAEA). It is one of three leadership positions chosen recently by AAEA members.
Zilberman, who is also an AAEA Fellow, is a highly-accomplished economist and author who has edited 17 books and authored or co-authored more than 300 papers in academic journals during his distinguished career.
"I am honored to be elected as President and look forward to working with the membership and board," Zilberman said. "We will work to augment the support of the association, expand its membership, and serve as a hub for the many professionals that work on issues of agriculture and natural resources, agribusiness, energy, health, and other issues of applied economics.
I look forward to developing collaborative efforts with other sister disciplines, provide useful services to our members in extension and in business, contribute to public policy, and provide resources to build a new generation of professionals in the U.S. and globally."
AAEA members also elected two peers to serve on the Board of Directors. Katherine Baylis is an associate professor of Agricultural and Consumer Economics at the University of Illinois, and Norbert Wilson is a professor of Food Policy at the Tufts University Friedman School of Nutrition Science and Policy.
Zilberman, Baylis, and Wilson will assume their new roles after the 2017 AAEA Annual Meeting, which is July 30 through August 1 in Chicago.
If you are interested in setting up an interview, please contact Jay Saunders in the AAEA Business Office.
ABOUT AAEA: Established in 1910, the Agricultural & Applied Economics Association (AAEA) is the leading professional association for agricultural and applied economists, with 2,500 members in more than 20 countries. Members of the AAEA work in academic or government institutions as well as in industry and not-for-profit organizations, and engage in a variety of research, teaching, and outreach activities in the areas of agriculture, the environment, food, health, and international development. The AAEA publishes two journals, the American Journal of Agricultural Economics and Applied Economic Perspectives & Policy, as well as the online magazine Choices. To learn more, visit http://www.aaea.org.