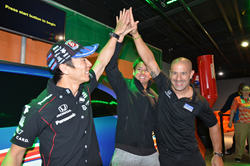 This is an incredible place for families to learn about what makes a race car go fast - from science to technology to engineering and math.
Indianapolis, IN (PRWEB) May 27, 2017
One of the most famous races in the world is just around the corner and some of the drivers took advantage of being in town for the Indianapolis 500 by making a pit stop (quite literally) at The Children's Museum of Indianapolis.
Carlos Muñoz (A.J. Foyt Enterprises), Jay Howard (Schmidt Peterson Motorsports), Tony Kanaan (Chip Ganassi Racing), Sebastián Saavedra (Juncos Racing), Takuma Sato (Andretti Autosport) and Courtney Force (NHRA Funny Car driver of John Force Racing) each visited the world's largest children's museum and could not wait to share their love of IndyCar racing with their fans in Hot Wheels™: Race to Win™.
"I think kids learn so quick and absorb everything," said Tony Kanaan of Chip Ganassi Racing and 2013 winner of the Indy 500. "I think every time my son comes here he is learning more and I can explain to him what I'm doing and I think it's a great exhibition – not only because we are in Indy and everything is related to cars – but also for them to learn."
After answering several questions about the science, technology, engineering and math that goes into racing, the drivers signed autographs and posed for pictures. Visitors loved going 'wheel to wheel' with real race car drivers with Hot Wheels die-cast cars on the iconic orange Hot Wheels track.
But the highlight of the day came when some of the drivers competed in the timed pitstop challenge where they race to change tires and refuel a race car. Upon learning their time during their first attempt was 12 seconds, they were not satisfied. And when they discovered that someone had done it in eight seconds, Kanaan would have none of it saying, "We are not going down. C'mon guys let's do this again." They went on to set a 'new track record' of just seven seconds and high fives were shared all around. Enjoy high definition video here: https://vimeo.com/childrensmuseum/review/218991439/3168d28baa
With the Greatest Spectacle in Racing (The Indianapolis 500) just around the corner, fans of all ages can experience Hot Wheels like never before at the world's largest children's museum. Starting May 13, 2017 fans get a firsthand look at the thrilling science, speed, and safety of motorsports with Hot Wheels® cars and tracks, positioned alongside full-sized race cars, artifacts and memorabilia.
The Hot Wheels™: Race to Win™ exhibit will run through July 30, 2017 before traveling to another city.
Hot Wheels™: Race to Win™ is presented by Central Indiana Honda Dealers. Supporting sponsors include Church Brothers Collision Repair and OneAmerica. Our science based initiatives are supported by The Heritage Group Center for Family Learning in STEM. Additional support is provided by Eli Lilly and Company Foundation.
About The Children's Museum of Indianapolis
The Children's Museum of Indianapolis is a nonprofit institution committed to creating extraordinary learning experiences across the arts, sciences, and humanities that have the power to transform the lives of children and families. For more information about The Children's Museum, visit http://www.childrensmuseum.org, follow us on Twitter @TCMIndy, Instagram @childrensmuseum, YouTube.com/IndyTCM, and Facebook.
About Mattel
Mattel is a creations company that inspires the wonder of childhood. Our mission is to be the recognized leader in play, learning and development worldwide. Mattel's portfolio of global consumer brands includes American Girl®, Barbie®, Fisher-Price®, Hot Wheels®, Monster High® and Thomas & Friends™, among many others. Mattel also creates a wealth of lines and products made in collaboration with leading entertainment and technology companies. With a global workforce of approximately 32,000 people, Mattel operates in 40 countries and territories and sells products in more than 150 nations. Visit us online at http://www.mattel.com.