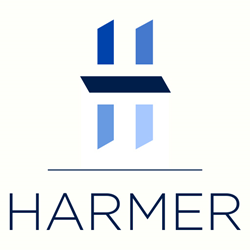 For over 30 years we've served our Chicago-based clients, and with this website we're thrilled to showcase our firm's successes and highlight our abilities to even better serve their needs
Chicago, IL (PRWEB) May 30, 2017
Today, Harmer unveiled a rebrand in honor of its 31st anniversary in the recruiting industry. The full-service Chicago firm, which provides diversified professional recruiting services in the fields of Accounting, Finance, and Technology, prides itself on a reputation for finding top-tier talent for diverse clients. Harmer's rebrand features an updated logo, refined messaging, and a fully revamped website that highlights their expertise and experience.
"For over 30 years we've served our Chicago-based clients, and with this website we're thrilled to showcase our firm's successes and highlight our abilities to even better serve their needs," says founder and CEO of Harmer, Randy Harmer. "So in this [rebrand] the key is that we can draw attention to the firm's history and successes, and also talk about our full suite of services to serve our client's needs."
Harmer's guiding principle and distinguishing asset is their dedication to people. Now, more than ever, Harmer provides the guidance, experience, and knowledge to assemble winning teams. Whether placing candidates in project-based roles or locating talent for c-suite opportunities, Harmer is attentive to the needs of both candidates and clients so that everyone's needs are not only met, but exceeded.
Now, as Harmer moves towards the future with an updated brand, they're even better suited to meet the needs of their clientele. "We have worked diligently over the past 30 years to build a strong internal team to provide more comprehensive offerings to our CFO and CIO clientele. Our recruiting teams can quickly provide talent for direct hire and contract services at the executive, mid-management, and staff levels," Harmer says, "We are proud of what we have built over the last 30 years in the recruiting industry and we look forward to helping our clients hire the best talent and build on their existing success over the next 30."
About Harmer
Harmer is a Chicago-based provider of diversified professional recruiting services in the fields of Accounting, Finance, and Technology. Backed by devoted, experienced Partners and an exceptional reputation, Harmer prides itself on connecting people who are empowered by growing meaningful professional relationships for direct-hire, retained search, contract, contract-to-hire, and project based assignments. Clients recognize Harmer for its exceptional recruiting team, quality candidates, and seamless process. For more information visit harmer.com.
###