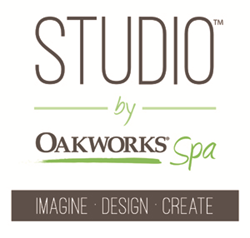 STUDIO is a streamlined creative product development tool where you can dress your Oakworks Masters' Collection table in real time with unique finishes, recycled and responsibly sourced material, colors and designs.
New Freedom, PA (PRWEB) May 30, 2017
Oakworks® Solutions announces the introduction of STUDIO, an interactive visual online table designing solution that gives clients complete flexibility when designing products. The tool effectively allows clients to design and customize their own spa multi-treatment tables – choosing from thousands of combinations of styles, materials, finishes, and features – and see their creations come to life in real time on-screen.
Oakworks President, Richard Shuman says, "We set out with a goal to be the solution of choice for Spa Designers and Dealers, and therefore developed a new creative experience to allow them to imagine, design, and create the positioning equipment fitting the spa and designers' vision for the interior spa design. Whether you want inspiration in materials by choosing from five design spaces or you go directly to a specific table model... STUDIO is a streamlined creative product development tool where you can dress your Oakworks Masters' Collection table in real time with unique finishes, recycled and responsibly sourced material, colors and designs. It will also become a social media platform to allow sharing of these design ideas across the design team members (architects, spa designers, dealers, Oakworks Solutions Customer Service.)
Five design spaces – Euro Chic, Highlands, Pacific Rim, Industrial, and Contemporary – and corresponding color palettes are available in STUDIO allowing customers to create a highly individual look for their treatment room beds.
Three new Masters' Collection table models are currently available, with more options and designs being added throughout the coming year. The Icon is robust and can be tailored to become a true design statement for a spa. The curved panels of the Maia give this table a softened feminine look and optional storage makes this table the perfect combination of style and function. The Talise is elegant, yet masculine, having simple lines and robust curved panels for a sense of softened strength. The storage option allows supplies to be stored discretely while still being close at hand.
VP of International Business Development, Dafne Berlanga says, "The new Masters' Collection is opening new possibilities to spa designers. Consultants were waiting for true statement tables that could bring life to the treatment room without compromising on comfort and technology. Oakworks did it with this new collection and now you can incorporate bold design with unusual luxurious finishes in your space."
Jessica Wadley, VP of Business Development for Spa and Massage added, "We are excited to offer beautiful Wilsonart® laminates and 3form resins. These companies complement Oakworks' commitment to maintaining sustainable practices and focus on offering durable quality products that are built to last."
3form resins are made from recycled and responsibly sourced materials and Wilsonart® laminates are applied by master craftsmen to ensure longevity and durability. All materials are available in a wide variety of patterns and textures to match any spa's décor. Oakworks continues to offer some of the most comfortable tops – soft, flexible, and durable – through PVC free AuraSoft fabric and locally sourced AeroLux ergonomic padding.
Wadley added, "Our commitment to quality is evident in every product we build and we stand behind that commitment to you, offering an industry leading warranty."
All Masters' Collection tables are available with Oakworks Adjustable Body Comfort (ABC) System. This feature allows therapists to discretely adjust comfort level in three seconds via a powered system without disturbing the client. The ABC System works especially well for clients with breast sensitivity due to augmentation, mastectomy, or post-surgical tenderness.
Oakworks provides quick turnaround time on all Masters' Collection tables. All models are ETL Listed, CE Marked, and come with a Lifetime Limited warranty.
About Oakworks Solutions: Innovating Health and Wellness Within Your World
Oakworks Solutions offers four unique brands; iNSPIRIT Medical Solutions, Oakworks Medical, Oakworks Spa, and Oakworks Massage. All brands are supported by the US-based customer service team, and product service solutions are offered world-wide to support the products offered. For more information, visit http://www.oakworks.com
About Oakworks, Inc.
OAKWORKS® is the premier manufacturer of spa, massage, and medical equipment with over 35 years of precision manufacturing experience and the best quality control in the industry. Known for design innovation, sophisticated engineering, quick turnaround time, and a unique commitment to U.S. manufacturing and environmental wellness, OAKWORKS® is setting the global standard in the markets it serves. For more information, visit http://www.oakworks.com,
About Oakworks Spa
Our design philosophy is quite simple; build beautiful products that support therapist's ergonomic health and client's comfort while insuring good value through high quality construction. Our innovative designs have been selected as the brand standard by leading spas, and are found wherever excellence in construction, comfort, and customer service is required. The Signature Collection is tried and true with classic designs and style. Used in hundreds of locations world-wide, from day-spas to remote destination resorts, Oakworks Spa is an industry favorite and now with Style, Ease, and Grace, the new Masters' Collection features hundreds of finish combinations that can be configured in the revolutionary on-line design tool, STUDIO. An industry leading warranty and service solutions support our commitment to our customers and their business. For more information, visit http://www.spatables.com
For more information, please visit http://www.oakworks.com. Additional information on Oakworks and their products Contact: Email address: info(at)oakworks(dot)com Phone: 717.235.6807