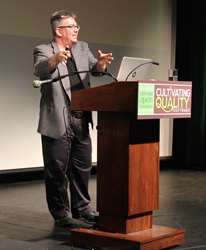 "It's a must-attend conference."
Portland, OR (PRWEB) May 30, 2017
Where can a software quality professional or developer concerned about better software go to learn about the latest testing techniques, tools and processes? The Pacific Northwest Software Quality Conference--PNSQC--would certainly fill that bill, especially for technology professionals on the West Coast.
PNSQC will host its 35th annual conference this year in Portland, OR, from Oct. 9 to Oct. 11. The program consists of three days of presentations, workshops and informal opportunities to discuss the latest trends in the industry.
The conference is unusual in several respects:
1) It offers a purely academic program for attendees interested in sharing knowledge about testing and QA. It's not a venue for recruiters, sales people or advertisers.
2) It's boutique sized--350 to 400 people annually, offering the opportunity to meet the speakers and pick their brains.
3) It's in hip Portland, an up-and-coming tech center. The city boasts a cadre of world-famous chefs, 5-star restaurants, cutting edge breweries and tours of the Willamette Valley wine region where some of the world's finest Pinot Noirs are produced. The venue, the World Trade Center, is located in the heart of downtown Portland, close to excellent restaurants and hotels and right across from the Willamette River.
PNSQC was founded in 1982 in Corvallis, OR, by a small group of software quality engineers and testers. It is the longest-running regional QA conference in the U.S., and attracts much-sought-after speakers from around the world.
"It's a must-attend conference," says XBOSoft CEO Philip Lew, a member of the PNSQC board.
Registration opens in June. For more information about PNSQC, the 2017 program, and how you can get involved, visit the website at
https://www.pnsqc.org/.