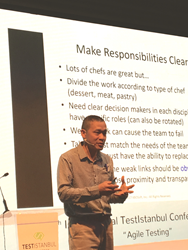 Lew will offer insights into testing when mobile devices are involved.
San Francisco, CA (PRWEB) May 30, 2017
With the agile software development process overtaking waterfall, and the rapid evolution of mobile devices putting more pressure on developers, software testers are being challenged as never before. Those with long industry experience who are constantly educating themselves on advances in testing are in demand these days. So it's understandable that the people behind Techwell's Better Software West offered three conference segments to XBOSoft CEO Philip Lew.
Lew's first presentation at Better Software West in Las Vegas will be a half-day workshop, Agile Risk Management, on June 5. He and co-presenter Moss Drake of Dental Management Company in Portland, OR, will offer an interactive workshop designed to teach participants how to handle the many risks that arise during an agile sprint and how to anticipate bumps in the road before they derail the project under development.
The next day, June 6, Lew will preside over a tutorial, Improve the Mobile User Experience (UX): Keep Your Users Coming Back. In this three-and-a-half-hour session, Lew covers both usability and user experience, explains their connections and differences, and explores design and evaluation methods to improve UX on both mobile and web platforms. To build a deeper understanding of how to improve your own app's UX, he'll give examples to illustrate the good, the bad, and the ugly.
On June 7, Lew will offer insights into testing when mobile devices are involved. In Mobile Testing: Challenges and Solutions, he will address the top quality challenges, and discuss how to approach and solve them. Some of these challenges include platform proliferation, internationalization, usability, when—and when not—to automate, and how to handle the segmented performance issues with device, network, and server.
All sessions will be held at Caesar's Palace in Las Vegas.
Lew frequently speaks at conferences like Techwell's. Most recently, he gave a keynote speech at TestIstanbul, an annual quality assurance and testing conference in Turkey. His company, XBOSoft, is based in the Bay Area. XBOSoft provides premium software testing services and quality assurance consulting. Click here to learn more about XBOSoft's testing and consulting services.