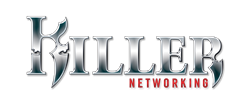 Austin, Texas (PRWEB) May 30, 2017
Rivet Networks, makers of the award winning line of high-performance Killer™ networking products for desktop and notebook PCs, is excited to announce the availability of its all new Killer xTend network extension technology, which can be found on gaming motherboards from industry leaders MSI and GIGABYTE.
Killer xTend delivers powerful network extension capabilities to a computer by integrating a network switch that includes at least three Killer Ethernet ports and using a Killer Wireless-AC module as a Wi-Fi extender. This allows the computer to share its network access with other nearby wired and wireless devices with a strong, powerful network connection.
Consumers no longer need to mess with switches and network extenders that are expensive and difficult to configure. Instead, they can use Killer's innovative new xTend Technology to connect devices such as gaming consoles, smart phones and tablets directly to their gaming PCs. Killer xTend keeps games, voice, and video fast and smooth because high priority traffic on the Killer PC is prioritized above the traffic from connected devices. Killer xTend also delivers amazing speeds – with potential throughput up to 1 Gbps for each Killer E2500 plus another 867 Mbps for the Killer Wi-Fi module.
Killer xTend is fully integrated into the Killer Control Center. A user gets started by connecting their devices to the Killer xTend PC and deciding which wired or wireless adapter will be the connection to the internet so it can share access with the other devices. Users can then configure the additional adapters to act as switch ports or to provide additional internet access to take full advantage of the Killer DoubleShot Pro features. In addition to extending the home network, Killer xTend enables users to connect to three different broadband networks at the same time. When connecting to multiple networks, Killer automatically manages which applications go over each network. Killer ensures the highest priority traffic will be put on the fastest and most reliable link while standard traffic is sent over the others.
Killer xTend also delivers the fastest real-time experience that gamers and performance users have come to expect from Killer products. Killer's Lag and Latency Reduction Technology accelerates the computer's most important network traffic such as game data to ensure the most critical packets never wait behind less important traffic. Killer improves latency, reduces jitter, and virtually eliminates video freezes by prioritizing critical network traffic to help users enjoy their gaming, web surfing and streaming video experiences more than ever before.
"With our continuous strive to push the gaming industry forward, we are excited to once again work closely with Rivet Networks to be the world's first motherboard brand to launch Killer xTend on our new Z270 GODLIKE GAMING. With GODLIKE at the heart of a gaming rig, it acts as a Killer fueled network extender to pass on and strengthen the internet signals, with the lowest possible latency, offering the best online experience when gaming on LAN or WiFi. Like GODLIKE GAMING, Killer's new technology is packed with new cutting edge technologies such as their exclusive Advanced Stream Detect 2.0 Technology. The MSI and Killer gaming experience has now been expanded throughout the complete household." said MSI's Ted Hung, Vice President of Motherboard, Desktops Sales & Marketing.
"Gaming PCs are powerful devices and perfect platforms for providing our customers a better home networking experience. Incorporating the functionality of a network switch and WiFi extender into a PC instantly provides better network performance without the pain of buying and setting up separate equipment," said Michael Cubbage, CEO at Rivet Networks. "Our partners demand the very best network performance for their customers, and we are pumped to be bringing Killer xTend to market with them."
"Creating the ultimate platform for Gaming PCs is what we strive for at GIGABYTE. With our new AORUS Gaming Series focused on delivering raw performance and the best user experience, we've teamed up with Rivet Networks on their latest and greatest Killer xTend product," said Henry Kao, Vice President of GIGABYTE's Motherboard Business Unit. "Gamers will rejoice as they witness network performance like they've never witnessed before once they use an AORUS Gaming Series Motherboard with Killer xTend."
For more information about Killer xTend, please visit http://www.killernetworking.com.
About Rivet Networks
Rivet Networks is a technology and products company that has focused on creating the best possible networking experience. Rivet offers a mix of hardware, software, and cloud-based technologies to deliver solutions that are both powerful and intuitive. Through their Killer™ line of networking products, Rivet Networks offers unprecedented speed, intelligence, and control for gamers and performance users alike. For more information about their Killer brand of technologies, please visit http://www.killernetworking.com.