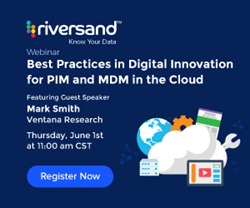 Houston, TX (PRWEB) May 27, 2017
Riversand Technologies, a visionary Master Data Management (MDM) provider and a Product Information Management (PIM) leader announced their plans to air a new webinar entitled "Best Practices in Digital Innovation for PIM and MDM in the Cloud." featuring Guest Speaker Mark Smith, CEO and Chief Research Officer at Ventana Research.
The necessity of high quality product information that is exchanged between manufacturing and retail is essential for efficient operations of business processes. Join Mark Smith, CEO and Chief Research Officer at Ventana Research who will provide his expert insights and latest market research on product information management (PIM) and master data management (MDM). The rapid growth in cloud computing is enabling manufacturing and retail to operate more effectively by supporting the product processes that share the information necessary to streamline the interactions to distributors and customers. Assessing what your organization can do with cloud computing to improve can significantly optimize your efforts and increase the outcomes you should expect.
During this webinar, attendees will learn the following:

Insight into digital advancements regarding the growth of cloud computing with MDM and PIM.
How to establish a business case for using cloud with MDM and PIM.
Assessing best practices for supercharging MDM and PIM investments with cloud computing.
Riversand Technologies will be hosting this webinar on June 1, 2017 at 11:00 CST (15:00 GMT).
Register for the live webinar at: http://www.riversand.com/special/webinar-ventana-research-cloud-pim-mdm/ .
Riversand recently hosted a series of successful webinars on Retailers Rely on Product Data Experience, Can Business Process Management and Master Data Management work together and Branded Manufacturers Race to Invest in B2C eCommerce.
About Riversand
Riversand is a Master Data Management (MDM) visionary and a Product Information Management (PIM) Leader. Riversand serves leading global enterprises in Retail, Manufacturing, Distribution, Energy, Healthcare, and Food Services. Riversand MDMCenter helps clients enhance their customers' experience and move products faster to the market. Riversand is headquartered in Houston with offices in Bangalore (India), London (UK), Stuttgart (Germany), Switzerland and Sydney (Australia) Visit us at http://www.riversand.com for more information and follow us @RiversandMDM on Twitter @Riversandtech on Instagram, @RiversandTechnologies on Facebook.
About Ventana Research
Ventana Research is the most authoritative and respected benchmark business technology research and advisory services firm. It provides research-based insight and expert guidance on business process and mainstream and disruptive technologies. To learn how Ventana Research advances the maturity of organizations' use of information and technology through benchmark research, education and advisory services, visit http://www.ventanaresearch.com. Their views and analyses are shared daily across our blogs and social media channels including Twitter, Facebook and LinkedIn.