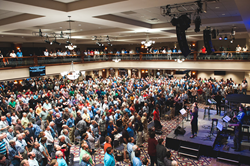 Ms. Trayham states: "I created the ThinkZILLA Faith Marketing Program as a way of taking unique and innovative growth strategies and simplifying them into easy-to-execute packages."
Houston, Tx (PRWEB) May 29, 2017
Houston's leading Marketing, branding and PR agency, better known for high growth impact results for clients has revealed a shift in its core business focus to helping ministries prosper.
Headed up by published author/branding expert and accomplished marketing consultant Velma Trayham, ThinkZILLA has begun working with church leaders and Christian organizations all across the world.
The company's social mission to help churches engage more authentically and effectively with its communities and stimulate long-term growth is a core component of its re-brand identity.
"I realized that what churches were missing was a bridge between the faith and non-faith worlds, an organization that straddles both worlds and understands both worlds. Even more so I'm passionate about doing God's work, and being an Ambassador for Christ is the main driver for building our clients' brands with God's directions."
"I see too many churches overwhelmed with how they operate, how to market themselves or communicate meaningfully with their congregations. And I hear the same problems over again from church leaders, too little time, too little experience in marketing and no-one who can give them the outcomes they're seeking."
The re-brand was built upon ThinkZILLA previous success of growing a church from 300 members to just over 5000 in less than three years and securing several hours of television interviews and press for its pastor.
"It's also about giving ministries the tools to deal with both positive and sometimes negative press in the fast-paced digital environment."
The re-brand also includes a new website with a streamlined front-end design and fresh content for target audiences (http://www.itsthinkzilla.com).
In fact, Ms. Trayham's passion to bring change to faith marketing started just a few years ago when she realized that her deep skill-set in entertainment PR and marketing could be transferred to the ministry. She realized that for too long churches were chasing the same people using the same messaging and the same ineffective techniques.
This proposition of acting as a bridge between the faith and non-faith worlds reflects the company's policy of working equally with smaller community churches and large super congregations.
In keeping with the hands-on style of ThinkZILLA's niche service, Ms. Trayham thinks nothing of jumping on a plane to meet and consult with clients, as she believes it's the only way to truly get to know them and discuss shared values and expectations. Because of this, the company's success rate is unusually high as they only ever create growth strategies in close conjunction with clients.