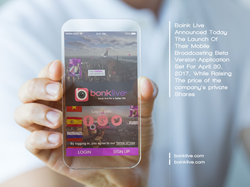 New York New York (PRWEB) May 27, 2017
Today Boink live streaming SRL Romania announced their newest Mobile broadcasting beta version to be released on Monday, May 29th, 2017. The new Mobile application is called Bonk Live. The company has locations in New York, Dubai, Philippines, Indonesia, Hong Kong, and will soon have offices in the Ukraine.
When looking at the Bonk Live mobile application, you can see a new Hollywood being born. People from all over the world are becoming stars just by letting their personality or special talents be seen live online using the new Bonk Live application.
Joshua Flynn, vice president of Marketing, said, "There are only a few companies out there streaming today, and no company out there has a mobile broadcasting application like we set up and built! We compare ourselves to a network of studios and television shows all over the world which are all paid for by advertisers and sponsors. Not to mention the viewers who send virtual gifts as appreciation for a great show or just for the fun of watching someone in their everyday life.
Just to show what Boink Live Streaming created just, for example, when a person watches TV there is always a commercial break where networks make the audiance watch 2 or 3 advertisements that last for 3 to 5 minutes. In other words, everyone watching a 30 minute TV show will watch 5 to 10 minutes of commercials because that is how the TV channels pay for the actors and the airtime. So every time a movie or any TV show plays, many advertisements are shown about particular products or offers without any interaction with the viewer; the user just views the commercial spot and then the Movie or TV show returns.
However, with Bonk live the Broadcaster who has been Bonkified presses a button to play a commercial during their live broadcast. Immediately the mobile screen splits in half with the person or people who are broadcasting the show now being viewed on top of the mobile device while at the bottom the commercial advertisement service or offer begins to play. Once the ad starts to play the broadcaster starts pitching that product or offer and tells his or her fans to buy it or use it.
In fact, with Bonk Live the broadcaster becomes the pitch man for the service or product while telling the millions of people who are watching to get it or go buy it from the special offer on Bonk Live. Of course, the broadcaster wants to do this because the broadcaster is receiving $150 USD for ever commercial they play and $50 for every advertisement they read online while streaming."
Bonk Live is an advertiser's dream because of the analytics that have been set up with the display application. Bonk live Mobile application feature's 16 advertisements on a carousel that rotate and show the logos of different company's every ten minutes. When a viewer presses on the logo an offer comes up and shows a product or service. The viewer then can say yes or no by just pressing yes or no on their mobile device. If the audience agrees with the offer or product he or she pushes yes on his or her mobile device and the offer is sent to the viewers treasure chest for later use. If anyone in the audience of viewers presses no, then the ad disappears. Viewers can only press on the ad one time during a broadcast as the broadcaster earns money and is paid 5 cents every time viewers press on a logo during their live show. Once again the broadcaster is pitching products or services asking everyone who is watching to check out the offers during their show.
Let's look at how this all works for a Bonk Live broadcaster
1. Bonk live is a free download for all mobile devices
2. Broadcasters are allowed to broadcast to any country live 24 hours a day
3. If you broadcast live, the broadcaster will earn 5 cents every time a viewer looks under a logo or at an offer
4. If you're a broadcaster, the user can make money by receiving virtual gifts and turning those gifts into cash
5. If you are a Bonkified Broadcaster, the user will receive $150.00 USD for playing commercials or $50.00 USD for reading advertisements
6. All presenters or broadcasters automatically qualify to get a debit card that has MasterCard facilities on it. Every Broadcaster can withdraw the cash they earn by simply going to their local ATM or using the MasterCard service wherever the MasterCard logo is displayed.
So let's look at a regular broadcast by a Bonkified Bonk active mobile app user. The user starts their show, and they are an influencer who has a huge fan base. They could be a singer, dancer, doctor, lawyer, swimmer, exercise coach, politician, or just an average everyday guy or girl. However in this example it is a beautiful girl named Monica, who is a model who will be going live and sharing her secrets of how to stay beautiful.
Monica starts her show by giving her show a name, "Monica's Secretes" and presses the go live button on her Bonk live mobile application. Monica's mobile camera on her phone using the Bonk Live Application counts down 3, 2, 1, she is live. People from all over the world who have downloaded the application get a text from their mobile device that Monica, the model which shows her picture and a 30 the second video of who she is will start broadcasting her live show.
More than 1 million people begin to click the link to her show and watch her live broadcast. Then Monica starts to speak about beauty products that are logos on the viewer's mobile phones. She tells the over 1 million people watching her show to look at the products as she believes in these products, and it is what has helped her stay beautiful. Monica is so excited and fun; she tells the viewers that there are special discounts and exclusive offers that you can only get when you see this on the Bonk Live broadcast. Monica decides to go face to face and Bonk beams in people to talk live with her while she is broadcasting live. People watching her show start sending her text messages asking questions. They can even leave messages later so Monica can become their friends or so she can tell her fans when her next show is.
When the show is over Monica has been paid just like any other star on TV or in a Movie.
Monica's broadcast had 16 different product logos shown every ten minutes on the advertising carousel during her show that lasted for 1 hour, so 96 various products logos were viewed. The advertising carousel posted these ads during her show on the left-hand side of every viewer's mobile device. She played eight commercials that were 2 minutes each for 16 minutes and Monica read two advertisements.
Monica wants to calculate how much she earned, so she looks at her Bonk Live account, and this is what she sees. Of the 96 advertising logos that were shown during her broadcast over 1 million people watched the show. Of the 96 logo spots that could have been pressed 1 time by each viewer the logos were only pressed 60 million times by the 1 million viewers who were picked the products they liked while watching the live Broadcast. If every viewer watching her show would have pressed on every logo during her broadcast, then 96 million pay per presses could have been achieved. Monica played eight commercials and read two advertisements and received hundreds of virtual gifts.
Monica received for every viewer who watched her show 5 cents per press. So 60 million pay per logo press multiplied by 5 cents for each press is $3,000,000 million USD for Monica's 1-hour show. Monica played eight commercials during her show and received $150.00 for each time she played the ad. So $150 multiplied by 8 is $1,200 USD. She read two advertisements for $50 USD. So she earned $100 for advertising scripts she read. Monica also received $25,000 worth of virtual gifts which she could either give away or use as cash.
Monica's show was a success, and she earned money for broadcasting.
Monica earned:
PAY PER PRESS FROM OVER 1 MILLION VIEWERS: $3,000,000.00 USD
VIRTUAL GIFTS: $25,000.00
COMMERCIAL PLAY: $1200.00
ADVERTISING READS: $100.00
Monica earned a total $3,026,300.00 USD for just 1 hour on Bonk Live
Bonk Live is paying better wages than Hollywood and has the digital advertisers pre-buying advertisements for every day and every week to sell their products or offers. Bonk live streaming application even without commercial play dwarfs other advertising vehicles and pays the broadcasters big money.
Daniel Skulnick said, "Advertisers dream about being able to get to their target audience. They want to get their product or offer in front of the right people. With Bonk Live the advertiser can pick who they want to play the commercials and or who they want reading their advertisements. With Bonk Live it is just like a real Hollywood audition. The director and the advertising company pick the right face or person for their TV commercial and then pay Bonk Live for the ads that are played during a broadcast.
With Bonk Live you can see how many people are following the Bonkified broadcaster and how many people visit them when they are streaming live on air. Everyone starts off at the same level however only individuals who have moved up through the ranks and become Bonkified can use the airplay button to play videos and read advertisements."
Bonk Live streaming have employed, "Social Media Fix" out of New York and "Avigra" out of Indonesia to put together their pitch decks and digital advertisers. IDAP nerds and geeks along with programmers and developers from all over the world have created artificial programming intelligence along with secret algorithms and codes to run the Bonk Live application. Bonk Live is also using Wowza and Amazon for streaming and load balancers.
BonkLive™ has launched a Beta Mobile Application which will fit all of the needs for Social Media, Live Video Streaming, Community to Broadcast, Chat, Meet New Friends while Getting Rewards and virtual gifts. The latest version will launch on Monday, May 29th, 2017!
BonkLive™ supports all its users with a New BonkLive™ ASAP Debit and Credit MasterCard. The new application is in the final stages, and the company has started inviting people to test the new broadcasting application before their first version launch.
BonkLive™ is beta testing the new application, and all interested testers have been sending their email requests to talentscout(at)bonk.live.
This press release contains forward-looking information within the meaning of Section 27A of the Securities Act of the 1933 and Section 21E of the Securities Exchange Act of 1934 and is subject to the safe harbor created by those sections.