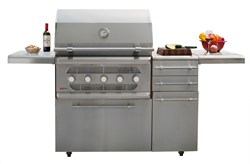 If you have room for just one grill, look no further than this masterpiece. (-Larry Olmsted)
Huntington Beach, CA (PRWEB) May 30, 2017
Grilling season is officially upon us and Summerset Professional Grills, an industry leader in outdoor grills, kitchens, and accessories, celebrates National Barbecue Month with an AmazingRibs.com Best Value Gold Award. Summerset's 36-Inch American Muscle Grill (AMG) was recognized by one of the top food and review websites in the nation for its hybrid fuel design, powerful performance and luxurious style.
The AmazingRibs.com Best Value Medal winners are recommended products based on features, construction, quality, and value. The AMG was reviewed by Max Good, Director of Equipment Reviews & Keeper of the Flame, and is the best of its type in its price category and a strong buy recommendation. "The name says it all," says Good. "The American Muscle Grill is a high powered, super-sized gas grill with striking good looks."
Manufactured in the USA and inspired by 1960's era classic muscle cars, AMG is the ultimate in fuel flexibility and gives users the option to cook with wood logs, wood chunks, lump coal, charcoal, infrared, propane or natural gas. With its precision and speed, AMG users can sear, smoke, slow roast, or use any combination thereof for a superior grilling performance. The AMG not only allows for multiple fuel types, it excels in performance over its single fuel competitors.
According to The New York Times best selling author and grilling master Larry Olmsted, the AMG "is the best combination of price and high-performance in the newest, hottest outdoor cooking category, multi-fuel or hybrid grills…this has become my go to, primary, everyday grill." Olmsted believes "if you have room for just one grill, look no further than this masterpiece."
Available in 36- and 54-inches, AMG features complete #304 stainless steel construction, solid brass flame-thrower igniters, and reversible V-Tech grates that provide added control over heat-transfer. Its creative Multi-Fuel Tray System places the innovation in the chef's hands. The new 54-inch AMG will be available in both a freestanding or built-in model with a whopping 176,000 BTUs. Maximum horsepower means maximum performance and that is what the AMG delivers.
Each AMG is proudly designed, built, and factory tested in America with a lifetime warranty, which includes the burners. The American Muscle Grill has the features and flexibility to be the last grill you will ever need. For more information visit http://www.americanmusclegrill.com.
About Summerset™ Professional Grills
Summerset Professional Grills, makers of the American Muscle Grill, offers a complete line of commercial grade, stainless steel gas grills, freestanding grills, BBQ islands, Fire Pits, and a complete line of island components. The company's commitment to quality is reflected in the craftsmanship of its stainless steel BBQ grills and components and is backed by the full support of the Summerset warranty. Summerset Professional Grills is a company born of experience with 18 years of leadership in manufacturing and branding. The company's core focus is providing consumers with three things that are paramount in today's economy: exceptional build quality, amazing value and personal service. For more information, visit http://www.summersetgrills.com.