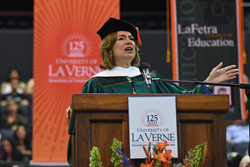 Remember the mission of service. Be generous and kind and bring others along.
La Verne, California (PRWEB) May 27, 2017
Maria Contreras-Sweet, who led the U.S. Small Business Administration under President Barack Obama, urged more than 1,500 new University of La Verne graduates on Saturday to embrace the spirit of entrepreneurship and lead lives of service.
Contreras-Sweet addressed the graduates during the university's two 125th anniversary spring commencement ceremonies at Citizens Business Bank Arena in Ontario. More than 10,000 relatives and friends gathered in the arena to see the graduates receive their master's, bachelor's, and doctoral degrees.
Contreras-Sweet told the graduates to believe in the power of the underdog, and to use "every bit of grit" to reach their goals and improve the lives of those around them.
"It's not enough to have a good idea and a diploma," she said. "You have to act on the challenges."
Contreras-Sweet believes in the power of entrepreneurship because she has lived it.
She was born in Mexico and came to the United States with her mother and five siblings at age five. When they arrived in Southern California, nobody in the family spoke English, and her mother took a job in a poultry processing plant to provide for the family.
Contreras-Sweet forged her own path into the worlds of business and government, breaking barriers for herself and others along the way.
As secretary of California's Business, Transportation and Housing Agency, she was the state's first Latina cabinet official. In that role, she oversaw 44,000 employees, a $14 billion budget, and 14 state departments.
As an entrepreneur, she launched three businesses of her own, including a community bank in downtown Los Angeles that aimed to assist underserved communities. Her work with the bank caught the attention of President Barack Obama, who appointed her in 2014 to serve as a member of his cabinet and lead the U.S. Small Business Administration.
On Saturday, Contreras-Sweet told graduates that entrepreneurial vision is necessary to solve the major issues facing the world, such as health care, security, and food scarcity. But part of embracing entrepreneurship is recognizing its limits, she said. She asked graduates to also respect diversity, be global citizens, and support marginalized communities.
"Remember the mission of service," she said. "Be generous and kind and bring others along."
Only four percent of venture capital in the United States goes to women, she said. One percent goes to African Americans and another one percent goes to Hispanic Americans. And the glass ceiling continues to keep women from reaching many top jobs, she said.
"In corporate America today, there are more CEOs named John than women named anything," she said. "So our work is still cut out for us."
Prior to her commencement address, the university presented Contreras-Sweet with an honorary degree in recognition of her achievements.
University of La Verne President Devorah Lieberman called Contreras-Sweet the embodiment of the American dream.
About the University of La Verne
Founded in 1891 and located 35 miles east of Los Angeles, the University of La Verne is a private, nonprofit, comprehensive institution founded on four core values: lifelong learning, ethical reasoning, civic and community engagement, and diversity and inclusivity. The University of La Verne serves nearly 8,400 students on the historic La Verne location as well as across nine Southern California regional campuses.