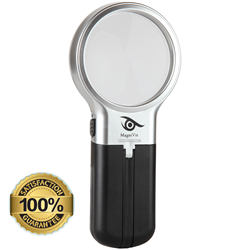 The MagniViz is one of those handy items which has a place in any home
San Francisco, California (PRWEB) May 30, 2017
The consistently popular MagniViz magnifying glass was recently rewarded by Amazon.com with an Amazon's Choice badge. Lush Items was delighted by this privilege as it differentiates the MagniViz from the sea of competing magnifying glass brands. At a glance, it makes any product stand out more, in almost the same way as the Best Seller badge, except there are more factors taken into account for it to be awarded.
However, there has been some confusion about what this badge represents. An Amazon support representative explained that the "Amazon's Choice" tag is a feature that helps Amazon customers save time and effort when searching for common, everyday items and suggests highly-rated, well-priced products with Prime shipping. But this description completely misses out the association with Amazon's smart speaker – Echo – which enables the device to automatically order items in response to a voice command. The MagniViz has a great many everyday uses across a range of ages according to comments left by customers; from reading small print on labels to inspecting coin and stamp collections.
When Amazon's Choice was quietly released a short while back, the intention was to allocate it to products with a range of good metrics; relating to popularity, rating and reviews, availability and shipping speed amongst others. The product list selected for the Amazon's Choice badge is constantly updated. This means that sellers on Amazon must ensure their products consistently meet the requirements in order to be considered. The bigger question regarding automatic ordering is do customers really trust Amazon to choose products on their behalf? From the customers perspective it is low risk, as Lush Items have always prided themselves on providing top quality customer service to back up their product quality, including a no-quibble money back guarantee - something they consider to be mandatory for an online retail business.
The MagniViz is a multi-purpose, magnifying glass with LED lights and a stand which folds out from the handle, enabling it to be used either handheld or hands free. It has alight weight acrylic lens with 3x magnification and comes with a soft cleaning cloth. The magnifying glass has two bright LEDs which require 2 x AA batteries (not included). There are also some instructions on the back of the box explaining how to unfold the stand and replace batteries.
Lush Items has decided to make the MagniViz available for $6.67 on Amazon.com for one week only in an attempt to retain it's Amazon's Choice badge. Thats 33% off the normal price using the promo code MAGVIZ33 at the Amazon checkout. This offer is limited to one per customer and expires on June 7th, 2017.
Julie Stevens (Sales Director) said, "It was fantastic to be awarded the Amazon's Choice badge. We know our MagniViz products are really handy items to have around the house. But it is wonderful to have Amazon agree with us, based on our sales and customer service metrics."