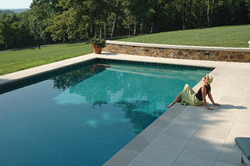 Pool coping was a natural line extension as it coordinates with other products in our growing Urban Hardscapes line
Bloomington, Ind. (PRWEB) May 31, 2017
The Indiana Limestone Company recently launched a line of natural stone bullnose pool coping, a beautiful and lasting selection for those considering concrete alternatives.
Indiana Limestone pool coping is cut from the attractive full-color blend limestone produced by the company's Indiana quarries. Its surface texture and coloration match that of the company's recently introduced pattern paving, which suits it well to landscape/hardscape designs that also employ the patterned pavers, or as an accent along with other Indiana Limestone design elements.
With a Solar Reflectance Index (SRI) of 54, full-color blend limestone is an exceptional choice for the decking around swimming pools, remaining comfortable for bare feet even on hot, sunny days.
"We had been getting requests from customers to make this stone available as pool coping for some time," said Indiana Limestone Company Product Manager Ben Wojcikiewicz. "It was a natural line extension as it coordinates with other products in our growing Urban Hardscapes line. In the past, Indiana Limestone options were always available as custom pieces, but stocking it means you have it for your projects faster. We have it in stock now."
More information on the Indiana Limestone Company and its products is available from http://www.indianalimestonecompany.com.
About Indiana Limestone Company
Indiana Limestone Company is unmatched as the premier supplier of Indiana Limestone in a range of beautiful and lasting building products. Founded in 1926 (with predecessor firms that had been quarrying limestone since the mid-1800s), ILCO today remains the provider of choice for this internationally renowned natural stone. Throughout an illustrious history in which its stone has made such iconic structures as the Empire State Building, National Cathedral, and the Pentagon, ILCO has reliably provided the highest quality products and services carefully tailored to the needs of the market with an environmental, natural focus.