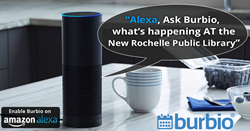 "Voice search is a powerful tool for communicating with residents," said Terry Kirchner, Executive Director of the Westchester Library System."
Pelham, NY (PRWEB) May 30, 2017
Burbio.com, a community events platform featuring thousands of school, library and community calendars, today announced the launch of an Amazon Alexa Skill that gives users voice access to personalized lists of upcoming events of interest from community organizations and allows any U.S. non-profit organization to be on Alexa instantly at no cost.
Using the Burbio Skill for Amazon Alexa, residents can "Ask Alexa" questions like "Alexa, ask Burbio what's happening at Dobbs Ferry Library tomorrow?" Or "Alexa, ask Burbio what's happening at Town of Lewisboro?" and find out what they need to know about what's going on in their town. The service is linked to the Burbio.com web and iOS app, which allow users to build a custom feed based on their interests that can be read off by the Burbio Alexa Skill.
"Voice search is an incredibly convenient new way to stay on top of local events," said Julie Roche, Burbio co-founder. "It's so much easier to just ask, 'Alexa, ask Burbio what's happening at my kids school tomorrow?' than to poke around websites and emails to find out."
Burbio pulls event feeds from partners and has a self-serve calendar publishing tool. Events update in real time across its web service, iPhone App and Alexa skill and are optimized for local search.
"Voice search is a powerful tool for communicating with residents," said Terry Kirchner, Executive Director of the Westchester Library System. "Services such as Alexa are going to play an important role in everyday life, and libraries are leaders in educating the community about new technology."
In addition to streaming calendars from sources including Google, Facebook, and various school and library software platforms, Burbio's calendar publishing tool allows any group to get their events on Burbio for Amazon Alexa in minutes.
"Many of our supporters use Alexa, so this is a perfect way to make it more convenient for people to find our events," said Stephen Baumann, Executive Director of the Discovery Museum and Planetarium in Bridgeport, CT which provides dynamic hands-on STEM experiences for visitors of all ages.
Burbio currently features over 10,000 school, library, government and community calendars including the suburbs of New York, Boston, Philadelphia, Chicago and Washington, DC, and is opening up the platform with this product release to non-profits everywhere. "Our partners are very excited that we have brought their events to the Burbio skill for Alexa – a new and growing communication medium," added Roche, noting the growing use of Alexa by tech savvy and younger consumers that are so critical to the mission of the education and non-profit community. "Many of our partners have been promoting their Burbio presence to members, and we are excited to open up the platform to any group across the country."
To Get Your Group or organization on the Burbio skill for Alexa, visit Burbio.com or email getonalexa(at)burbio(dot)com