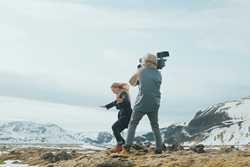 Los Angeles, CA (PRWEB) May 30, 2017
"Mesmerizing, electric, and achingly lovely," is how bestselling author Jennifer Niven describes The One Memory of Flora Banks by Emily Barr, out this month from Penguin Random House. The book, about 17-year-old Flora Banks who has no memory past the age of ten, and whose memory resets each day, is already a bestseller in the UK, and is well on its way in the US in its first month of publication. Entertainment Weekly and Bustle both dubbed the book one of the hottest books of the summer.
Is creating a book trailer to do justice to a book that's so intricately crafted on the page, and already so beloved, even possible? The answer, thanks to Film 14, an LA-based film studio that produces cinematic book trailers and other video content for books and authors, is a resounding yes. The book trailer for The One Memory of Flora Banks, shot on a stark and beautiful beach location in Iceland, captures the essence of the multi-layered novel, and is an alluring piece of art in its own right. "This is one of our most cinematic undertakings yet in that we went to great lengths to match the geography of the novel," says Adam Cushman, the book trailer company's founder, "The result is something closer to what the movie could look like."
Thinking about film adaptations is just one of the ways that Film 14 is reimagining the world of book trailers. At a time when many publishers are unsure about the usefulness of book trailers in general, Film 14 has created a new model of professional, high caliber book trailers. These studio quality book trailers are intended not only as a promotional tool leading up to the publication of a book, but content that can be shared throughout a book's life and used to imagine what a film version of the book might look like and even to interest producers in the material.
The success of the book trailer for The One Memory of Flora Banks speaks for itself. It has already been featured as the "Book Trailer of the Day" in Shelf Awareness and its release has been covered by The Hollywood Reporter. It beautifully captures the essence of Barr's novel and leaves an impression that readers and viewers won't soon forget.
Watch the official book trailer for The One Memory of Flora Banks here: https://vimeo.com/215150643
About Film 14:
FILM 14 IS A LOS ANGELES-BASED INDEPENDENT FILM STUDIO THAT PRODUCES CINEMATIC BOOK TRAILERS. WE'VE CREATED BOOK TRAILERS FOR PUBLISHERS SUCH AS PENGUIN/RANDOM HOUSE, HARPER COLLINS, AND HACHETTE, AS WELL AS AUTHORS RANSOM RIGGS, ANTHONY SWOFFORD, PAUL STANLEY, JENNIFER ARMENTROUT, SALLY GREEN, MATT BELL, MONICA DRAKE, AND OVER TWO HUNDRED MORE.
More Information about FILM 14 is available at http://film-14.com/, on TWITTER @film14tweets, and on FACEBOOK facebook.com/film14trailers
###