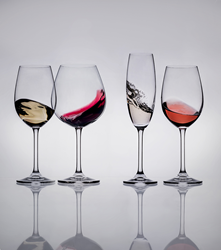 After all it comes down to the fact that glass really matters. Our innovative glasses makes a mediocre wine taste good, and a great wine taste amazing.
(PRWEB) May 29, 2017
To say that RÖD Wine, a company with a new revolutionary line of glassware that will change the way people enjoy wine, are making people euphoric by their products seems to be an understatement.
Since their launch on Amazon.com it is not just sales that has been through the roof – the positive feedback seems never ending. How is it possible that a company get so much love from their customers in an environment that often is associated with the debate whether the openness to reviews is good or bad for business?
"First of all is that we are really living our brand promise," said Johan Hallberg, cofounder and CEO of RÖD Wine. "We create great experiences with high quality, sense stimulating forms and innovative design. On top of that we deliver world class customer service. We are not satisfied with an "OK" customer. We are just satisfied when the customer is 100% happy. When you deliver like that every day you will get raving fans. And I guess that we are seeing the result of being what we promise, every day."
RÖD Wine has an astounding percentage of verified 5-star reviews on Amazon.com, 91%. Of the 4-star reviews there is 6%. And no single one star review. More than 97% of their customers are more than happy with their products.
"According to Amazon it is pretty rare with such a great review rating. We were sure our customers would like our products, but we were not sure if they would share their experiences with us on Amazon," Hallberg said. "Once again I am sure of that our products that actually are enhancing our customers wine experiences, together with our hard work to always WOW our customers, is the recipe of the success."
"We also have 100% Positive Seller Feedback on Amazon, which is the customers rating solidly on us as a seller. Once again our way to always wanting to wow the customer are being paid off when it comes to customer service and the aftermarket," Johan continued.
RÖD Wine seems to have a lot of reasons to be proud.
So the question for the curious would be if these raving fans just I small fan group of the brand or if their love for the products are helping sales in general?
"Absolutely! We have achieved the Best Sellers Badge several times at Amazon.com, which shows that we have been the bestselling brand among wine and champagne glasses," said Hallberg. We are also repeatedly chosen as the "Amazon Choice" of wine and champagne glasses. And we are sure the great feedback from our customers is helping a lot. We also have been selling a little bit too well and were out of stock for a while, but we have made sure that will it never happen again. The demand has been increasing with the great feedback."
RÖD Wines products are crafted with the enhancement of the wine and champagne experience in mind. The champagne glasses are created to keep the carbonation inside the glass, the white wine glasses are designed to keep the wine cool, crisp while remaining sleek and elegant and the red wine glasses have a wider bowl that helps the wine aerate which lets in more oxygen and by that enhancing flavor and smell.
The lead free crystal glassware of RÖD Wine are produced to be sturdier than the average crystal glass. The glasses are dishwasher friendly, according to Hallberg. "Most of the crystal glasses on the market are thin and fragile. They have to be hand washed. We know people don't have time for that today, so that was one of our criteria during our innovation process. We met that criteria and are delivering crystal glasses made for being used and dish washed every day. They are even restaurant graded."
"We have also put a lot of research, efforts and investments to create the best gift box in the market," Johan Hallberg said. The boxes are not just beautiful to look at, they are perfect for long term storage. The innovative put-and-click-system we developed makes it very easy to just take out the glasses, use them and click them back in the gift box when washed."
The research and the innovation paid of immediately. The boxes won a design award within the packaging industry due to it's design and innovative storage system, before the products hit the market.
Another reason the customers may be impressed by RÖD Wine is their work of spreading information about wine and champagne. With each purchase of their glassware the customers will receive a 195-pages eBook, valued $29, containing exciting reading about wine travels and vineyards, information about wine history and pairing, wine regions and recipes.
"One of our missions is to spread wine wisdom," said Hallberg. "To include a beautiful eBook packed with interesting information that hopefully will get both the beginner as well as the wine enthusiast some good reading is just one of the ways we are spreading wine wisdom. We are also putting a lot of efforts into our newsletters and we are trying to give great content on our Social Media as well. All in all we want to get our customers to be more interested in wine as well as more knowledgeable."
It is clear that RÖD Wine is on a mission and that what they are doing has been highly appreciated by wine and champagne drinkers all over United States.
"After all it comes down to the fact that glass really matters. Our innovative glasses makes a mediocre wine taste good, and a great wine taste amazing," said Johan Hallberg. "We are proud to be able to increase the amounts wonderful moments and experiences for wine and champagne lovers all over the United States, thanks to our glasses."
RÖD Wine offer their attractive, durable, and eco friendly line on Amazon.com.