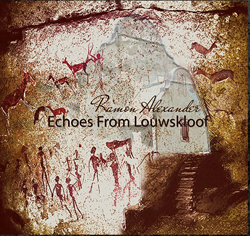 "Echoes from Louwskloof" is a timeless legacy of one man's reflection on his musical and homely heritage. Enjoy it!" ~ Granville Skippers
(PRWEB) May 30, 2017
"Louwskloof was a place close to home where a Khoi captain, Klapmuts, and his people roamed when the German missionaries set up shop in Groenekloof, South Afrcia [today it's known as Mamre] at the turn of the 1800s".
It's apparent that that Ramon reveals his special connection to a place, past and present as these historical tidbits flow through his music.
On the issue of a Cape jazz musical legacy Ramon states, "It is undeniably part of our culture, it is a cosmopolitan sound coming from places like District 6. The actual rhythm is from the East, rattiep. In a country where our youth is in search for identity and culture, this music definitely has relevance. It is a very indigenous thing."
The tune "Louwskloof se mense" takes up the subject of "some of the first inhabitants of Moravian Mamre [who] were then converted to Christianity." Moreover, on "Sons and Captains" the style and sound is decidedly ghoema, the genre within jazz that evokes mixed emotions: the jazz purists deride it, while others embrace it as "roots music".
"Louwskloof se mense" (The people of Louwskloof) pays homage to Ramon's hometown in Mamre, north of Cape Town. Punchy bass and piano lines with a raspy sax introduce a reflective piece of a legacy left by the Khoisan forefathers of Louwskloof. Ramon Alexander's "Echoes from Louwskloof" is a timeless legacy of one man's reflection on his musical and homely heritage. Enjoy it!" ~ Granville Skippers
Alexander's musical forefathers take centre stage in this more roots-inflected jazz style. Musicians Mac Mackenzie, Abdullah Ibrahim and Robbie Jansen have done a lot to give this a noteworthy place in the jazz spectrum.
"Sons and Captains" encapsulates both complimentary and contradictory strands in Ramon's music: the past and the present; pre-jazz and within jazz; derision and homage. It signals another inclusion to the fresh cohort of jazz musician that has emerged fully able to take over from the previous generation – the "Captains" have steered the ship well and have handed over the helm to the sons who are ably taking control at the helm. This new crew will take Cape jazz to places it has never been before. (Sons and Captains - Shot in Studios while recording the Echoes from Louwskloof Album https://www.youtube.com/watch?v=fpRpqIg9v74)
"Ramon Alexander is a breath of fresh air, he takes you on a musical journey creating a landscape of rhythmic interplay that showcases his legacy and heritage" says Jaijai Jackson of The Jazz Network Worldwide.
Ramon was fifteen when his interest in jazz was first piqued, he became fascinated with a Cuban band called Como No. and started listening to Shakatak, Fourplay, Dave Grusin, Joe Sample and The Crusaders, Bob James, Djavan and Lee Ritenour.
After being introduced to a more mainstream form of jazz through his lessons with Cape Town's foremost jazz teacher, Merton Barrow's jazz workshop he was exposed to the music of Thelonious Monk, Bill Evans, Keith Jarrett, Miles Davis, Herbie Hancock and Chick Corea.
Ramon has performed at diverse music festivals such as the Suidooster Fees, Aardklop, the Cedeberg Fees, Cape Town International Jazz Festival (CTIJF) and most recently at the Borneo International Jazz Festival in Miri, Malaysia.
In addition, he has performed at Jazz on the Rocks (both Plettenberg Bay and Tieties Bay) and the Darling Music Experience and KKNK. With the inclusion of the Crypt, Ramon regularly plays at the i-Studios Lapa where he recently hosted a Legend Series, paying tribute to the countries Jazz Legends that paved the way for current Jazz artists.
He currently performs with the bassist Chadleigh Gowar, the drummer Annemie Nel, the saxophonist Zeke le Grange and Dustin Julius. Ramon is seeking to bring his artistry to worldwide jazz stages in the coming year.
Be sure to catch Ramon's feature on http://www.thejazznetworkworldwide.com. To learn more go to http://www.ramonalexander.co.za. 'Echoes from Louwskloof ' can be purchased on iTunes  https://itunes.apple.com/au/artist/ramon-alexander/id686872501 and can be found on Facebook at: https://www.facebook.com/ramon.alexander1?fref=ts.
##