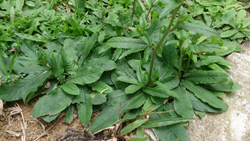 They deserve more exploration to develop novel cytotoxic drugs.
(PRWEB) May 30, 2017
A newly published study suggests that the methanol extracts of several kinds of tropical African plants may form the basis of powerful new drugs for malignant mesothelioma and other cancers. Surviving Mesothelioma has the full story in a new article. Click here to read it now.
Scientists at two Cameroonian universities and Anadolu University in Turkey applied methanol extracts from the whole Elephantopus mollis plants (also known as elephant's foot), as well as from the bark and leaves of a number of other plants known for their medicinal properties.
"The study provides evidences of the cytotoxicity of the tested plant extracts and highlights the good activity of Elephantopus mollis and Kalanchoe crenata," concludes Dr. Victor Kuete, a biochemist at the University of Dschang in Cameroon. "They deserve more exploration to develop novel cytotoxic drugs."
The study, published in BMC Complementary and Alternative medicine, found cancer-fighting phytochemicals including polyphenols, triterpenes, and sterols in the extracts from all the plants tested. These compounds have been shown to have toxic effects on malignant mesothelioma cells by inducing apoptosis (cell death) and stimulating the production of reactive oxygen species.
"New treatments for mesothelioma are desperately needed since even our most powerful cancer drugs have only a modest impact on this aggressive malignancy," says Alex Strauss, Managing Editor for Surviving Mesothelioma. "Any time a potential new anticancer agent is discovered, it is cause for hope within the mesothelioma community."
For full details on the new African study, including all of the different plants tested, see Searching for New Mesothelioma Drugs Among African Plants, now available on the Surviving Mesothelioma website.
Kuete, V, et al, "Cytotoxicity of the methanol extracts of Elephantopus mollis, Kalanchoe crenata and 4 other Cameroonian medicinal plants towards human carcinoma cells", May 25, 2017, BMC Complementary and Alternative Medicine, https://www.ncbi.nlm.nih.gov/pubmed/28545532
For more than a decade, Surviving Mesothelioma has brought readers the most important and ground-breaking news on the causes, diagnosis and treatment of mesothelioma. All Surviving Mesothelioma news is gathered and reported directly from the peer-reviewed medical literature. Written for patients and their loved ones, Surviving Mesothelioma news helps families make more informed decisions.